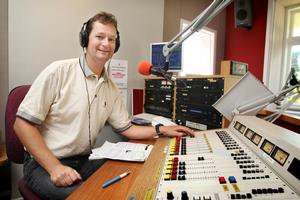 When toddler Aisling Symes went missing her father, Allan, was studying to work in radio.
The course was dropped last October as the Henderson family poured all their energy into finding their 2-year-old "adventurer".
But a month after her little body was discovered in a stormwater drain near her late grandparents' house where she disappeared, Mr Symes decided to head back to school.
"I chatted to my tutor and he said 'You're welcome to come back - if you push you'll get through, I know you will'," he told the Herald.
"To get that certificate was absolutely ... I had tears in my eyes."
In December Mr Symes graduated with a diploma in commercial broadcasting from the New Zealand Radio Training School, with "excellence in news-reading".
And those who tuned into Images of Ireland on community radio station Planet FM on Sunday, would have heard his dulcet tones.
It was a nervewracking first bulletin for the Waterford emigrant, who told the Herald he would do what it took to get a foot in the door of the radio industry.
"I'll sweep floors, I'll make coffee if I have to," he said.
And after a slight hiccup - forgetting to introduce himself - it was smooth sailing between 11.35am and 12.35pm.
Mr Symes said it had taken a while for his sense of humour to come back after losing Aisling, but he tried to inject a few laughs into his show.
Remembering to "whack the old play button" as well as announcing, he played a range of Irish tunes, including New South Wales by the Clancy Brothers.
"Here you are in New South Wales, shearing sheep as big as whales," the song went.
Mr Symes spoke about Munster Rugby Club's 33-19 win over the Northampton Saints in the Heineken Cup quarter-final, helped by former All Black Doug Howlett dotting down in the 23rd minute.
The resurrected Waterford crystal factory in his home county was a much-lauded news item.
"It wouldn't be right if I did my first show and didn't mention Waterford," he told listeners. "It is good news for Waterford because it will be employing people who previously worked for it."
Mr Symes is also doing the odd producing shift at Radio Live and hopes to be back on Planet FM within the next few weeks.