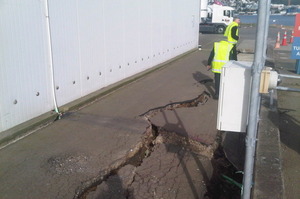 Roads
State Highway 1 between Seddon and Kaikoura will be closed overnight due to numerous slips and rockfalls
Urgent travel between Blenheim and Seddon is possible but people are urged not to attempt the journey unless absolutely necessary.
Needle Creek Bridge and Flaxbourne Bridge south of Seddon suffered extensive damage.
Traffic in Wellington has returned to almost normal after the congestion this afternoon. Motorists were advised to be patient in heavy traffic and to delay travel if possible.
All Wellington roads are open except Lukes Lane and Chews Lane.
All road tunnels and bridges in Wellington have been checked and are safe
Rail
KiwiRail is advising Tranz Metro passengers that all Wellington commuter lines are closed while track inspections are undertaken to check for any damage to the rail.
Normal services are expected to resume tomorrow.
The Wellington Railway Station is also closed and expected to reopen in the morning.
Rail freight services are currently suspended between Palmerston North and Christchurch while checks are carried out to the rail lines.
Buses
Wellington bus services are operating as usual but subject to delays due to congested roads.
Ferry services
Interislander ferries are operating.
Airport
Wellington airport is open following a runway inspection, but travellers are advised to check with their airline or airport website for flight status.
People should expect delays.
Power
All power and water in Wellington has been restored.
Power has been restored in Seddon but remains off at Ward south of Seddon. A generator is being transported to the town but it is not yet known when power will be restored.
Gas
Wellingtonians are being urged to report any smell of gas to Powerco gas company on 0800 111 848 or call emergency services on 111.
Powerco has received 11 gas callouts in the Wellington area since the first earthquake this afternoon.
Telecommunications
Telecom said that its networks in the Lower North Island and upper South Island were still operational but the network remained congested.
Customers were urged to make contact via text message to ensure lines were free for emergency calls.
Damage
There are reports of minor damage to buildings in Wellington but no reports of severe structural damage.
A nine-storey lift shaft in a carparking building in central Wellington is to be demolished immediately
Some buildings around Seddon and Ward in Marlborough were badly damaged.
Universities
Lectures and meetings have been cancelled until Monday at Victoria University of Wellington, with Old Government Buildings, Rutherford House and Te Aro buildings evacuated as a precaution.
Massey University's Wellington campus has been closed as a precautionary measure.
The University of Otago's Wellington campus will remained closed on Monday while engineers inspect buildings for damage.
Westpac Stadium
The stadium has been closed until engineering checks can be completed over the weekend and Monday