Home size a financing hurdle for buyer keen on prototype house at Hobsonville Pt.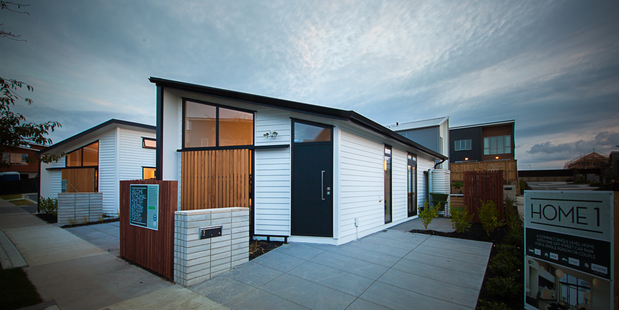 A buyer keen on Hobsonville Pt's smallest of three new prototype houses couldn't close the purchase, partly because of financial barriers and the tiny size of the house.
Katja Lietz, Hobsonville Land Company's manager of sustainable development, said the issue arose with one of the Axis Series Small Home Test Lab houses, built by Classic Homes in Auckland's northwest to show how places don't need to be huge to be attractive or work well.
But banks ask more questions and have stricter criteria before granting mortgages on tiny places, seen as more risky and less attractive in the event of a mortgagee sale than bigger houses.
"A buyer came forward for the one-bedroom house who met the criteria but unfortunately they were unable to secure finance. I understand the size of the home was one factor," Lietz said. That one-bedroom place with a carport is only 40sq m on a pocket 111sq m site and was selling for $339,990, compared with many other new New Zealand houses of 200sq m-plus, on 600sq m-plus sites, going for nearer $1 million.
The second house, 87sq m, went for $449,990 and the third place, 89sq m, for $484,990.
Classic built all three houses, joined at exterior walls, then leased them to Hobsonville Land Company for six months as show homes to test the concept of compact homes on small lots.
Lietz said finance was not the sole reason for the rejection. "For this particular home, the buyer did not need to be a first-home buyer, but they needed to meet the other criteria. We know from experience that one-bedroom homes are attractive to an older market and many of these have previously owned a home, some who are looking for an alternative to a retirement village. The two- and three-bedroom homes are being sold to first-home buyers," Lietz said.
When that buyer was knocked back, Classic Builders went back to a wider group of people who wanted the place and a second buyer came forward who did meet the criteria.
"We ... understand they are an older couple who have family in the area, which is why the home and area is attractive to them."
Hobsonville Pt is a 167ha area of upper Waitemata Harbour coastal land, a former air base where about 3000 new houses, townhouses and apartments are rising.
Chris Aiken, Hobsonville's chief executive, said two of the three places had garages. The 40sq m had a carport and much stronger demand was evident for the bigger test lab places, rather than the 40sq m one.
"We got two out of three absolutely bang on but the smaller one, people were saying, 'Just a bit more room'. It blew us away, the response. We've had thousands of people through and we have people on second and third visits who are potential buyers," he said of people looking to buy the next tranche of small houses.
These prototypes could be built anywhere, in existing suburbs, as infill housing when the Unitary Plan becomes active, he said.
"They're perfect because they're space efficient. We did a lot of work with Auckland Council on small lots and they have adapted," he said, telling of relaxation of 60sq m courtyard rules which he said were too big when the house was only 40sq m.
The three test lab houses had more than served the aim, Aitken said. "The purpose of building these three was to see how strong the market for small houses would be, because slightly bigger places of 90sq m is the average which Europeans are building. We had an amazing response. There's a significant market for small houses. All three of those places are under contract. We'll close them as show homes this month and people will move in in September."
Buyers did sometimes struggle to finance smaller places, in the 40sq m category, "but we've got queues for the two- and three-bedroom places and 20 per cent of everything we're building here will be in the $300,000 to $400,000 range -- under $485,000. We're doing that as part of the minister trying to increase the number of affordable houses," he said, referring to Housing Minister Nick Smith.
"Across Hobsonville, there will be about 600 places under $485,000 and most of those will be houses," he said, distinguishing those from apartments now also rising there.
But not all the small new affordable places would be terrace-style, like the test labs, Aiken said. "About 25 per cent of those affordable places will be stand-alone."
Tiny test labs
Three compact adjoining houses, Hobsonville Pt's Station St:
*1-bedroom, 40sq m on 111sq m site: $339,990.
*2-bedroom, 87sq m on 152sq m site: $449,990.
*3-bedroom, 89sq m on 185sq m site: $484,990.
[Source: Hobsonville Land Company]