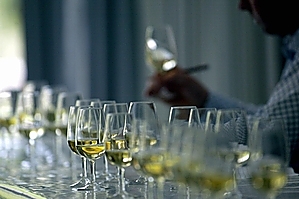 The government is spending $12 million to help the wine industry develop new flavours of sauvignon blanc.
The aim is to create new styles that can command top export dollars and protect New Zealand's international leadership position in the wine style.
Plant and Food Research will receive $2 million a year for the next six years from the Foundation for Research, Science and Technology.
Programme leader Roger Harker said the research body was working in conjunction with Auckland and Lincoln universities and had pulled together the country's top wine science capabilities.
It was about creating scientific tools to enable the wine industry to pursue what it saw as its opportunities, he said.
With sauvignon blanc accounting for 80 per cent of New Zealand's wine exports it made business sense.
"The wine industry sees sauvignon blanc as something they've just scratched the surface of.
"They want to create a pipeline of New Zealand-centric flavour styles that will generate excitement in the marketplace and further stimulate demand."
This could be done by manipulating New Zealand's unique terroir, or wine environment. It involved everything from the way the vines were managed to harvesting technologies and controlling variation from year to year.
The signature herbaceous, grassy style of New Zealand sauvignon blanc could be played with "at the edges" to create a diversity of tastes at the upper end of the market.
Equally, the know-how could be used to maintain the standard New Zealand sauvignon blanc flavour profile.
Plant and Food is working closely with industry body New Zealand Winegrowers on the project.
Science and innovations manager Philip Manson said they aimed to create a kind of "juice index" so that winemakers could scientifically measure the flavour and aroma potential in the raw product.
"We want to be able to give people numbers to their sensory input, so that they can be a bit more precise about what they're doing rather than doing it because they think they sense this or sense that."
For example, compounds called thiols created the distinctive passionfruit and citrus aromas in sauvignon blanc and some winemakers had pushed their style in that direction.
However, the compounds existed in tiny quantities, he said.
"A small change can produce a very big outcome."
The science could also be used in targeting specific markets.
China was currently of big interest to wine exporters.
"Are there components there that might be more appealing or less appealing to the Asian palate?"
Savvy business
* Sauvignon blanc accounted for 62 per cent of New Zealand's 2009 vintage
* Marlborough sauvignon blanc accounted for 57 per cent of the vintage
* The variety made up 81 per cent of New Zealand wine exports by volume
* Sauvignon blanc exports grew 37 per cent in the 2009 year
Source: New Zealand Winegrowers Annual Report 2009