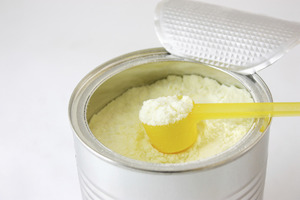 The Chinese-owned infant formula brand that became a sponsor of the Vodafone Warriors rugby league team last month says it will remove potentially misleading, digitally altered promotional material from two Auckland supermarkets where its products are sold.
The brochures feature an image of cows standing in a New Zealand paddock behind a sign, which Fernbaby assistant director John McCaulay confirmed had been "photoshopped" into the picture, saying: "Fernbaby Pasture Of [sic] No.8."
The image could give consumers the impression that the baby formula company owns the farm, which it does not.
But Foodstuffs NZ - in whose stores the brochures were being offered alongside cans of Fernbaby product - is defending its baby formula supplier.
"We don't believe the flyer infers ownership of farms, rather that it is in line with their requirement to be able to trace their raw materials right down to the individual cow and pasture used," said communications director Antoinette Shallue.
McCaulay also said the intention of the image had been to highlight the source of the product.