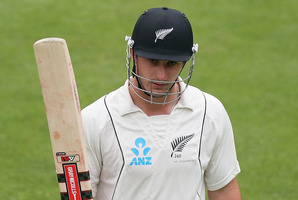 Are our opening issues fixed? Short answer is, I hope so. The long answer is, it is too early to tell but the signs are good.
A score of 171 is a hell of way to announce oneself and the thing that I like about Hamish Rutherford is his unorthodoxy as an opener.
The traditional thinking is that a left-handed opener should leave the ball well, put the cover drive away early, waiting for the opportunity to hit through the leg side. Not Rutherford though, he thrives on the chance to bang it through the covers.
The traditionalists would say that is a recipe to nick out to the slips but Rutherford would disagree and I say fair play to him. What Rutherford does that works so well is he hits the ball at the top of its bounce, late and under his eyes. This means that if it does move on him, he has time to adjust.
Most importantly, it does not allow the bowlers soft opportunities to bowl down the off side channel and build scoreboard pressure.
Sure, they probably won't mind getting hit through the offside early but they won't like it for too long and then will bowl the tighter line which batsmen don't mind because straight bowling allows for risk-free scoring.
Think Langer and Hayden. There is nothing wrong with aggressive opening batting if you can do it. In fact, there is everything right about it.
I still want to see Rutherford batting in more bowler-friendly conditions and see how his offside play holds up because it works well on the placid University Oval where he has cashed in over the last year.
That said, when the ball is moving, runs are of massive value and the way that he hits it once it has done its business insures him somewhat.
So to the other component of the opening partnership. Has Peter Fulton moved forward as a player since his last effort and will he take his final opportunity?
What I liked was his ability to graft out a score. It showed an element of experience but I am still hugely concerned about his desire to defend at balls well wide of off stump and his tendency to hover on the back foot.
There is no running from the fact that at test level these two will have their techniques thoroughly examined by bowling attacks that get bounce. But right now all is good.
Temperamentally, I like their games. Fulton has experience and Rutherford looks like he backs himself and seems unflappable.
And finally there is Martin Guptill waiting in the wings to keep them honest. A bit of competition is a wonderful thing.