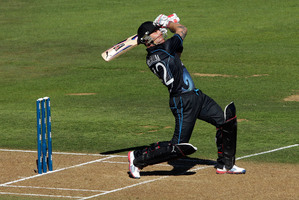 Watching the way the English bowlers were able to stifle the New Zealand batsmen in the first half of the ODI in Napier made me highly aware of the threat they possess in the test matches and how clear in approach the New Zealand top order will need to be to combat them.
New Zealand's batting approach for 30 overs of that ODI was to be conservative and it didn't work. It wasn't until Brendon McCullum took it to them and took risks that any ascendancy was gained. However, the problem is that you can't play like McCullum did in tests and 300 runs are not enough.
That will be the challenge once more; to find a way to keep the total moving while playing with an acceptable level of risk. In South Africa, against a quality attack, you could see the focus of the batsmen was to defend, bat as long as possible, and graft ... and it didn't work. That approach is not right for the current team.
The attack of James Anderson, Stephen Finn, Stuart Broad and Graham Swann is not so far removed from Dale Steyn, Vernon Philander, Morne Morkel and Robin Peterson.
It may lack a little pace but not by much, it definitely doesn't lack bounce, it has swing and just as much accuracy.
It's important that the New Zealand batsmen learn from South Africa and don't let this attack squeeze the life out them. Believe me, I've been there and it doesn't work. You simply become a wicket in waiting and 400-plus is out of the question.
For this reason I once again make the plea for Brendon McCullum to open in the tests because he has had the South African experience and BJ Watling may not be a bad option to take on the opening role once more. He has a reasonable handle on the tempo required. Two new openers will not have the harrowing experience in the republic to learn from.
The biggest threat should come from James Anderson. He has forged an exceptional career and is now fifth on the England list of test wicket takers ... and moving ever higher. Why is he so good? Well, he's about 6 foot 2, bowls in the high 130s and sometimes into the mid-140s.
He's effective at slower speeds because he has impeccable accuracy now. He makes people play and gets just enough in the air and off the pitch, all done off an economical shorter run ... does that remind you of anyone in particular? Sir Richard Hadlee anyone? I know, in this country, I've just made a sacrilegious statement but right now, at this stage of his career, I see similarities to the great man.
Okay, if I've offended you golden oldies then he's got a lot of Vernon Philander about his delivery - and we all know how much trouble he has given us.