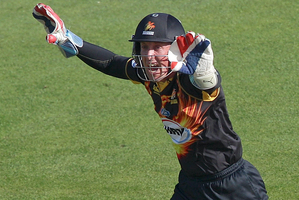 For the good of the country, Brendon McCullum must open the batting in test matches because, if he doesn't, there is no room for Luke Ronchi - and that would be a crying shame.
Kane Williamson, Ross Taylor, Dean Brownlie, BJ Watling and McCullum would make up three through seven, so there is no room for Ronchi. Four bowlers are needed because no one in the top seven bowls well enough to play as the fourth bowler.
Could Ronchi displace one of those players? In time, maybe, but right now it would be unfair because none of those players deserves to be dropped just yet. In fact, the one under most pressure is surely McCullum and let's face it he is not set for the chop. In fairness he is a good enough player to be allowed to ride out a form slump.
But here's my point. Right now Luke Ronchi is the best first-class batsman currently playing Plunket Shield.
Forget his T20 efforts, this bloke is churning them out in the longer form. So far in the Plunket Shield, Ronchi has scored 760 runs at an average of 69 with four centuries. Therefore McCullum, as captain, has to think of his team before himself and open. That allows Ronchi to move into the top seven. New Zealand simply can't afford to enter a test environment without their best available batsmen.
If this does not happen, then who should open?
I'm loath to turn my back on Martin Guptill in tests just yet but, yes, the time has come for him to score runs. So who to partner him? Given Peter Fulton was most likely earmarked for the job in South Africa it's unfair not to give him first rights. His double failure in the last Plunket Shield games should not deflect attention from a stellar campaign opening for Canterbury. Before his lean last game he had scored 779 runs at 59 with three hundreds. He's a wizened old campaigner now and I like that.
If Guptill is cut there could be two newcomers, or more likely re-comers, at the top and there is a real list of possibilities. In time Hamish Rutherford will push for the test opener's spot but I am not in favour of him getting the nod just yet. International T20s should not be the fastest way into the test team; first-class form should the way in. So who has it?
Daniel Flynn. He's moved back into the opening role since returning from South Africa and in four innings scored two hundreds. Michael Papps has 714 runs at 51 with two hundreds this season. Then there's Aaron Redmond - 708 runs at 50, also with two hundreds.
Wow. Are we spoilt for choice or what? Or are these players just good provincial players and nothing more?
That is hard to say until they play ... again. They are now mature cricketers who know their games; going back to the past is not going backwards if they are the best and can deliver progress in our test cricket.