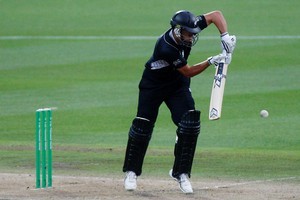 Once again when I look at a New Zealand test squad, I'm filled with hope - but I'm not going to get my hopes up to be let down like I have been so often in the past.
Our cricket team are not going to become world-beaters over night but in this current lot I see a team that could be, or rather should be, in the top four test teams in three years time and if they aren't ... then they have let themselves down.
Right now the batting has almost emerged and is closer to the surface than the bowling. The top five of Brendon McCullum, Martin Guptill, Kane Williamson, Ross Taylor and Jesse Ryder picked itself and has the potential to be a regular and formidable force.
For me, Ross Taylor is the only one I'd say has made the step from potential to realised talent but I only say that because I have high expectations in terms of international test standards for all of these five. If our team is to be a force, all these players must become 40-plus per innings players on average.
It's a healthy situation to have a number of players competing for No 6 and Dean Brownlie promises much. BJ Watling can count himself lucky but let's face it - he is a reserve and the highly promising Rob Nichol is lying in wait.
The great thing about this batting line-up is there are no questions to answer. They are the best players and now it is up to them to perform at the level they all believe and tell us they can.
In three years, Chris Martin won't be in this team and maybe not Daniel Vettori but those two right now provide some reliability going into a pressure environment that is Australia. Tim Southee is getting better with every year. He will hold up well in Australia, too.
I am hugely excited about Doug Bracewell. I know it was only Zimbabwe but your first test match, regardless of the opposition, is harrowing. He looked to have the right mental stuff. He's also got the goods physically with enough pace and swing to be able to succeed at the top level.
There is still a general lack of penetration about this bowling attack but it's good enough to survive because it has a sense of application about it and will use any swing on offer well. By the time Martin retires, I'm hoping one of the tearaways like Adam Milne has emerged.
If so, we have a bowling attack with international-style balance. We just now need a 1998 version of Daniel Vettori to emerge and it will bowl teams out.
This is a very balanced selection for Australian conditions - although with Vettori batting at seven or eight (depending on where Reece Young bats) only three seamers may be used and Ryder or Brownlie may be needed to bowl. Maybe at Hobart one of the part-time off-spinners will be able to do that job.
The big thing to hold hope in, though, is that the Australian team (while filled with quality players) is in the turmoil stage of transition. The Black Caps, while still underdogs, have been through that period, I believe.