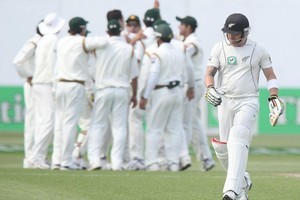 I was surprised when Daniel Vettori elected to bat first on a pitch that is heavily grassed; good but heavily grassed.
Needing to win the match, I would have thought he would have wanted to put his best foot forward which is most likely his seam bowlers in conditions that give them assistance. Couple that with the fact that the Pakistan batsmen would not want to find themselves batting first and the Black Caps could have taken control of the game on the first day ... the traditional way New Zealand has won test matches in the past.
But Vettori decided to try and take control of the game by building a big first innings total. It's a positive decision in the way that he has given his batsmen a vote of confidence.
However they should already be confident about first innings batting because that has not been the main problem. It has been the second half of the match that gives our team trouble.
New Zealand has actually made decent first innings totals regularly enough to be a better test team but have regularly failed to capitalise on those first innings scores.
A lack of bowling penetration and genuine turn options has often meant tests have ended in draws but it's that dreaded third innings collapse that is the most spectacular because it leads to embarrassing defeat.
Why the collapses? Well, I'll table a theory. New Zealand generally scores its runs quite quickly - leaving plenty of time in the game even after 400 runs are posted for a result.
Then, if the bowling leaks runs too easily or does not pressure the opposition batting team, parity in the game is gained too early. Thus the Black Caps' batsmen find themselves under pressure when maybe the psyche is not quite ready again.
So how about a solution? Total understanding and confidence in one's test match batting method, which unfortunately is still missing in this team.
If you know how you personally must go about things to succeed, then that belief can help offset the anxiety that this team must surely feel the minute they lose a wicket or two in the third innings.
Ross Taylor led the way with that yesterday. His innings was controlled and selective. His pacing was excellent but one mistake; one error of judgment; and it was all over. When he drove at a ball of a good length, angled across him, first ball of a new bowler's spell it was yet another illustration of this team's inability to stick to a method of play for long enough.