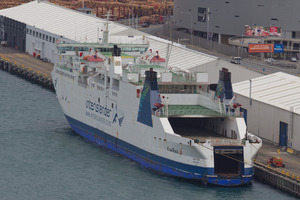 Morning sailings of the Interislander ferry Aratere are being cancelled for at least the next few weeks.
KiwiRail chief executive Peter Reidy said today the ferry was "mechanically and electrically sound" but was running on its original, smaller propellers, which was slowing it down and making it late by about 15 minutes per crossing.
"We are not getting the speed from the old propellers," he said.
The Aratere had its first full day of service on Monday, and was scheduled to run three return sailings from Wellington to Picton each day.
However, KiwiRail said it had taken the ferry longer than normal to make the Cook Strait crossing and its 6.45am crossing was cancelled yesterday and this morning.
The Aratere was put out of action when it lost a propeller on a crossing in November last year. It then underwent a three-month refurbishment in Singapore.
While in Singapore the decision was made to fit the vessel with its original smaller propellers, replacing the ship's larger propellers that were fitted in 2011.
Mr Reidy said this decision was made because they wanted to eliminate any possibility that the large propellers had contributed to the ship's failure last year.
Aratere's morning service would now be replaced by services on the Arahura and Kaitaki, and Mr Reidy said the first task was to deliver an effective service to customers.
He said they would then decide on a course of action for the long term.
In the meantime they would continue to test the ship's larger propellers, Mr Reidy said.
"If it becomes clear the propellers were not at fault we can repair them and restore them."
Mr Reidy said they would also investigate the possibility of commissioning new propellers in the future, but any long term action would take time, because of dry docking requirements.
Earlier today spokesman Michael Flyger said those affected by the cancellations had been put on sailings on Interislander's other vessels - Arahura and Kaitaki.
"Obviously there's people and freight that's had to have been juggled around and got across, but we've got sufficient capacity to accommodate all of those - it's just a question of fiddling around with the timetables to make sure we get everybody there as quickly and with as much certainty as possible."
Aratere would still be conducting return freight crossings from Wellington to Picton at 2.45pm and 10.45pm today, he said.
Meanwhile, the company said it was not concerned about reports the Arahura hit the wharf at its Wellington terminal yesterday morning, reportedly due to strong winds in the capital.
"Vessels contact wharves fairly regularly especially in adverse weather," a spokesman said yesterday.
"There was no damage to either the Arahura or the wharf, and we've received no reports of injury to persons or damage to cargo as a result."
This morning Mr Flyger said the ship's master and linesman were "both pretty adamant" that the ferry did not make contact the wharf.
Both the wharf and the Arahura subsequently had been inspected and no damage had been found, he said.
- APNZ