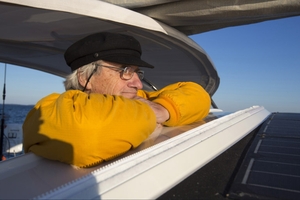 A New Zealand adventurer is launching a daring attempt to become the oldest and the fastest person to sail solo, non-stop, around the world.
Stanley Paris, 76, plans to circumnavigate the globe in his single-hull yacht, Kiwi Spirit, in just 120 days.
The life-long explorer has stocked his state-of-the-art 19m offshore cruising boat, designed by Farr Yacht Design, with high-tech gadgets to get him home safely.
He will carry an emergency engine, extra sails, a spare rudder, two inflatable life rafts and two satellite phones.
Mr Paris says he's aware of the risks, but as he told an American newspaper this week, he has weighed them up.
"There's about a 3 to 5 per cent chance a tragedy will occur," he told the St Augustine Record.
"But then I'm 76 - there's an 8 per cent chance I won't make it another year anyway," he added.
Mr Paris, a Dunedin native who moved to the United States in 1966, is preparing to leave his adopted home of St Augustine in Florida on November 30.
From there, he will sail to Bermuda, where he will begin his ambitious quest in earnest.
It's the latest adventure in a life full of ambitious antics.
In 1960, Mr Paris drove a VW Beetle from London to India, and in 1985, he did the Hawaiian Ironman triathlon.
At the age of 49, he swam the English Channel and at 72 returned to swim it again as part of a winning relay team.
Last year, he rode his BMW motorcycle across the United States in less than 50 hours, in the company of his son and three friends.
Then he turned around and did it again - on his own.
He's also a successful physical therapist and ran his own practice before owning a hotel in Bermuda and a back-pain centre in Atlanta, Georgia.
- APNZ