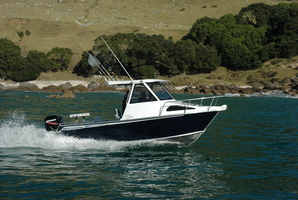 Morrinsville's Sportscraft Boats is one of New Zealand's most prolific aluminium boat builders and, when it comes to value for money, one of the very best.
The company's Bluefin and Scorpion ranges are among the most competitively priced on the market so are often the pick of first-time buyers or those moving up to a bigger vessel.
The new Scorpion 610HT is a good example. Aptly described as an entry-level hardtop, it is, unsurprisingly, the biggest-selling Scorpion in the range.
And why not: it has an LOA of 6.1m, a genuine hardtop (complete with protective overhang) and a ready-to-go-boating price of just $42,500.
Granted, that is with a 90hp carburetted two-stroke outboard, tote tanks instead of one under the floor, an unpainted hull and no automatic windlass, trim tabs or windscreen wiper. But this is still very good value for money - especially when one considers that a painted hull will cost only an extra $3500, a windlass, a set of tabs and a wiper or two are all relatively inexpensive and, surprising as it may seem, that basic 90hp outboard is all that is actually required.
Sportscraft's managing director, Jamie Black, says the company was always keen to offer the 610HT with the relatively inexpensive two-stroke carburetted outboard, but only if the performance stacked up.
"The Mercury 90hp is an in-line three-cylinder engine with a big [1.38-litre] displacement," he says. "This gives it the required low-down grunt to pick the 610HT up and get it onto the plane."
He's right. The 610HT slips easily onto the plane at about 2500 rpm, with a very low transition. Full-throttle acceleration from a standing start is also impressive.
The best cruising speed is about 23 knots at 4500 rpm and the 610HT tops out at a more than respectable 33 knots at 5500 rpm.
Those who want more power can upgrade to a 90hp, 1.5-litre OptiMax or even a 115hp or 125hp OptiMax.
Both of the latter are based on the same engine platform as the OptiMax 90hp, so there is no extra weight for the horsepower gain.
But it is worth noting the OptiMax 90hp is 33kg heavier than the basic 90hp two-stroke and will add a few thousand dollars to the price.
Black believes the basic two-stroke 90hp is the best option for most boaties but does advise an upgrade for those planning on crossing bars or doing a lot of boating with three or four divers on board.
"Then a 115hp or even a 125hp is a better choice, to compensate for the extra weight," he says.
Despite the 610's modern-looking lines, the hull design is more than 10 years old.
However, it has been continually tweaked over that time and now features a more pronounced gull-wing design and wider chines, resulting in improved stability and a softer and drier ride.
This has created a very versatile platform and Scorpion now offers the 610 as a hardtop, a centre console and in various cabin modes.
Black says that, as always, the company had a very specific set of criteria in mind when it began work on designing the hardtop version.
"It had to have a 5mm hull to ensure softness of ride, a cabin with bunks long enough to sleep on and a big working space in the cockpit.
"We achieved the right balance between cabin and cockpit by putting on a small hardtop; this not only cuts down the windage while underway but also maximises cockpit fishing room while offering the protection expected from a hardtop."
As a result, the cabin berths are 2m long, offering a genuine option for overnighting. (Add the infill and this becomes a very large double berth.)
There is good storage under the squabs, plenty of natural light from the overhead Maxwell hatch and a generous 1.27m sitting headroom.
The interior is fully lined (with no hint of alloy), a cabin light is standard and there is extra storage in the aft bulkheads. One can also add an electric or portable toilet, under the centre squabs, and a privacy curtain.
With no windlass, the standard 610HT comes with an open anchor locker and access is via the cabin hatch. But I suspect many buyers will choose to fit a helm-controlled windlass and seal the anchor locker.
The hardtop has purposely been left open on the sides and the back to cut down on that windage so, as a bonus, it is possible to fish from both the driver's and the passenger's seats.
The overhang is a perfect spot for VHF and AM/FM aerials and a built-in rod rack. Toughened glass forward screens and a pre-mount means the 610HT is ready to accept a wiper and, as with the windlass, I expect one or two of these will be fitted to most, probably quite soon after purchase.
As one would expect, the 610HT also doesn't have any electronics (other than those for the engine) but there is enough room for a 12" MFD and all the instruments and switches one might need. There is also a handy small shelf on each side of the hardtop for keys, cellphones and the like and a small upstand prevents objects on the floor from sliding into the cockpit.
Twin Hi-Tech seats with upholstered cushions mounted on fibreglass bases are standard, but buyers can upgrade to back-to-backs if they want more seating.
Black says most choose to stay with the twin swivelling forward bucket seats and add a padded removable fish/chilly bin.
"This means they can seat four or, if they want more room for fishing, can leave the bin at home."
The 610's cockpit is a large, open and simple affair. The only stowage is in the full-length side trays (rod racks are optional) and on a protected shelf in the transom (alongside the battery box). With the under-floor space occupied by buoyancy, the 610HT has a pair of 45-litre tote tanks, which fit snugly under the transom shelf.
The side decks are wide and, apart from a handhold aft on each side, uncluttered, giving extra seating at rest. There is also a small boarding platform on each side of the engine and a drop-down ladder for swimmers and divers.