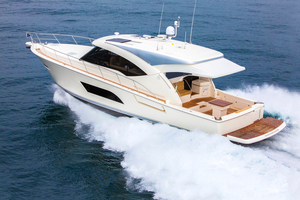 When Australia's largest production boat manufacturer released the first of its SUV range, the 445, last year, many considered it a bold move. Until then, all of Riviera's models had shared a distinctive look. There were some variations, but it still took only a quick glance to know what brand of boat one was watching.
The 445 SUV did not fit that mould. Most noticeably, its beach house style interior was very not Riviera. Some found that disturbing, others thought it refreshing and exciting.
The proof, as always, is in the market, and that vote has been extremely positive - in 12 months, 15 have been sold.
Perhaps just as tellingly, there has been a definite demand for more of the same, but bigger.
The result is the new 565 SUV, an 18.52m version unveiled at the Riviera Festival of Boating in Queensland in May.
There, says the company's international sales director, Chris McCafferty, the way the new offering was received was extremely encouraging.
"People who came aboard at the show loved the single-level living and the full-beam master was a great hit," he says.
That is a view echoed by Barry Thompson, editor of the New Zealand-based Pacific Powerboat magazine. Thompson, one of the first marine journalists to review the new model, says he was impressed by the full beam master cabin and the way the new 565 handled rough conditions he met during the test.
The two models are closely related. The 565 SUV is available only in a pod-driven version, although one can choose twin Volvo Penta IPS or Cummins Zeus drives). By insisting on pod power the designers have freed the space under the saloon - usually set aside for the engine room - and instead used it to create a magnificent full-beam stateroom, with king-sized island berth, a walk-in closet, a two or three-person settee and a large and well equipped en suite.
As Thompson notes in his review, it is the boat's piece de resistance and will probably be one of its major selling points.
The 565 also has two other cabins and a second, shared, en suite. There is a "VIP guest" in the bow, with a choice of a walk-around queen-size berth or two extra-wide singles, and a starboard "bunkroom" with two over-width single berths.
The pod drives have other advantages in addition to their aft location. With the 565's standard pair of 700hp IPS 900s (through IPS2 pod drives), the SUV has a top speed around 32 knots, achieved at 2420rpm.
The best cruising is at 2000rpm. This gives 24.5 knots while burning only 161 litres an hour. With a 3500-litre fuel capacity, one can travel around 870km before needing to find a bowser. Those into towing lures will find it possible to do so at a leisurely 8.5 knots at 1000rpm, burning 32 litres an hour and enjoying a range of more than 1570km.
The IPS/565 SUV combination is also reasonably unfazed by boisterous conditions. Heading into two-metre breaking swells, it required only around half tab to feel comfortable while covering the ground at about 17 knots. Turn and run and, sans tab, it is easy to sneak over 30 knots.
Control in the confines of a marina is equally easy thanks to Volvo's IPS joystick controls and their ability to move the boat sideways if required.
Riviera has thoughtfully provided a set on either side of the cockpit, as well as at the helm.
If the initial 445 SUV was lauded for its beachy feel, this new 565 will, I feel, be admired for its penthouse-like ambience. Sure, the views are a lot closer on board than they would be in a true penthouse but the modern decor and styling, huge oversized windows and narrow forward mullions all create the same generosity of space and the feel of being able to see forever.
As with the drives, only one interior layout is available, although my understanding is that some minor tweaking, especially to the seating, will be accommodated ... although I don't know why anyone would bother.
As on the 445, the helm station is to port. Although somewhat unusual in this part of the world, it makes perfect sense - we do, after all, pass port to port at sea. The dash is thoroughly modern, and Riviera's designers have left enough space to mount three 16in MFD screens side by side. They have also installed two high-quality helm chairs and, recognising that almost everyone wants to look forward while under way, added another two on starboard.
Although these make something of a barrier when facing forward, they can all swivel to create an enormous and inclusive social area stretching aft through the saloon, then the galley and into the cockpit.
After spending its early years deep in denial (and ignoring the excellent advice from this side of the Tasman) Riviera has finally seen sense and placed its galleys aft. With aft bulkheads now almost a thing of the past, those working on preparing a meal (or tidying up after one) are right in the thick of the social activities, regardless of whether these are taking place in the saloon or the cockpit, or both.
With everything open it is a little hard to tell where the saloon ends and the cockpit begins, although it is probably on the handy aft-facing mezzanine settee.
Here one can chat with the chef while overseeing the activities in the cockpit.
There are several cockpit options including a central island unit with large electric grill and a transom moulding incorporating a built-in barbecue.
Which is chosen probably depends largely on how much one intends to entertain, and whether one is a keen fisher.