Branding change helps Aqualine's appeal in Australian market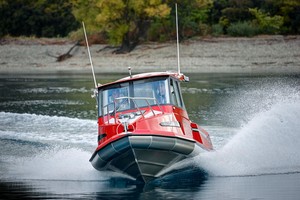 There is obviously something special in the water down in our southernmost city.
Despite being about as far from the rest of the boating world as it is possible to get, Invercargill boat builders in no way seem limited by the tyranny of distance.
Instead, they seem to view it as an opportunity rather than a restriction. After all, when the opportunities presented by the highly populated east coast of Australia are almost as close as those of the much smaller Auckland market, why not choose to target our transtasman neighbours?
Stabicraft, arguably this country's largest pleasureboat builder, certainly thinks that way. Its marketing manager is based not in its Invercargill headquarters but Sydney.
So, too, does another Invercargill alloy boat builder - Kiwi Engineering & Marine (manufacturers of the Kiwi-Kraft range) might not have an Auckland dealer but does have boats plying the many and varied waters of Australia.
Examples include an 11m custom boat in Darwin and several smaller models throughout Queensland and Victoria.
However, as Kiwi-Kraft founder and managing director Rodney Harris quickly discovered, our Australian cousins may admit they prefer our boats but they don't like to have their noses rubbed in it.
"Selling a boat in Australia with the name Kiwi doesn't go over well with a lot of buyers," he says. "So we thought we would change the name to something more generic."
As a result, his aluminium pontoon boats are now marketed throughout Australia (and in some parts of New Zealand) as Aqualine.
Nevertheless, despite his steadily increasing focus offshore Harris is adamant he has no intention of becoming a mass producer of boats. He unashamedly admits that he prefers the one-on-one interaction with his dealers and boat owners that small-scale production allows.
It also enables him to offer a high level of customisation: "If you can dream it, we can build it."
The company's latest model, the Aqualine 645, is a case in point. Although all versions come with Kiwi-Kraft's traditional underwater hull shape, the 645 can be fitted with single or twin outboards, a single diesel or petrol sterndrive, or with a waterjet. Virtually every other part of the boat is also up for discussion.
The reason the hull is so sacrosanct is that it works so well. With a traditional fine entry, 20-degree deep V at the transom and two strakes either side, Kiwi-Kraft hulls also feature wide tubes. These act both as stabilisers and as air traps, providing extra lift and delivering an enviable softness of ride.
Harris also incorporates his company's aluminium boat technology called Kiwi Hushtec. This features a variable deadrise hull coupled to the cushioning pontoons, increasing straight-line speed and improving manoeuvrability and handling in a wide variety of conditions.
In the first Aqualine 645, the Kiwi-Kraft hull shape has been paired with a MerCruiser Diesel TDI 3-litre V6.
This is an increasingly popular, lightweight common rail diesel engine generating a useful 265hp. Compact and with a smooth power curve, the TDI powers the 2160kg, 6.45m Aqualine, in mirror-calm conditions, to a top speed of 38.5 knots.
Add a 10-knot head wind and a bit of water joggle, however, and that air trap comes into play. Thanks to the extra lift, the top speed jumps to 40 knots, without any increase in rpm.
Although diesel engines are generally viewed as more workmanlike than outboards, these new common rail versions can pack a pretty impressive punch.
The TDI-powered 645 can go from zero to 15 knots (and on the plane) in a touch over 5 seconds, with a real kick from the turbo at about 2000rpm.
For those more interested in comfortable, economical cruising 3000 rpm will deliver a more than respectable 28 knots while using just 28 litres per hour (a miserly 1 litre of fuel for every nautical mile covered).
Although the 645 is clearly a fishing-focused vessel (especially in the cockpit), Kiwi-Kraft's standard of finish is high and there is also a reasonable level of comfort in the enclosed areas.
These latter areas include a substantial cabin (with the traditional twin-single berths and a converting infill to make a double) and the protected wheelhouse.
Both are lined with a soft grey fabric, so apart from the chequer-plate sole and squab bases there is no alloy panelling visible (these, too, can be carpeted if required).
A large hatch provides access to the foredeck should it be needed and welcome ventilation on hot, calm days. In the unlikely event that some water should find its way in, the cabin is self-draining.
Although there is a bulkhead on starboard for the helm, the port side has been left completely open, making it easy to move between the two sheltered areas.
On our test boat, the wheelhouse features a rear opening door and a pair of single swivelling buckets on storage bases.
However, Kiwi-Kraft's willingness to customise means one can pretty much design whatever interior best suits. Those keen on over-nighting might wish to add a galley and fridge while those focused on fishing (especially in warmer climes) may get rid of the rear bulkhead to provide faster access to the cockpit.
With 1.72m of cockpit space, there is, even with the engine box, plenty of room for four people to fish without getting in each other's way.
The standard Aqualine 645 package includes five deck-mounted rod holders in wide, flat coamings, a full-width boarding platform with telescopic ladder, an auxiliary outboard bracket and a step-through transom with drop-down door and conveniently placed handrail.
There are a brace of small auxiliary seats forward, the engine box doubles as either additional seating or a bait station, and there is a soft bimini that can slide out over the forward area of the cockpit to provide shade and weather protection.
There is a 260-litre fuel tank and an optional kill tank under the chequer plate sole, and one can also customise the transom area with live bait wells or extra seating depending on what one plans to do with the boat.
Dimensions
Aqualine 645
LOA647m
Beam2.45m
Deadrise20 degrees
Trailerable weight 2160kg
Construction Alloy - 5mm/4mm
Engine 265hp TDI 3-Litre V6
Top speed 40 knots
Cruising speed 28 knots
Fuel capacity 260 litres
Price as described $148,000
Want to know more?
Check out Barry Thompson's comprehensive boat test on the Aqualine 645 in the July/August issue of Pacific Powerboat magazine or at www.pacificpowerboat.com.