Sleek, fast and spacious, this purpose-built craft has everything you could wish for in a charter day boat.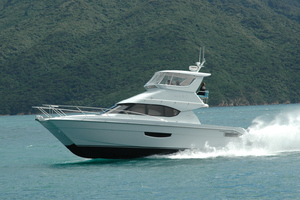 While production launch manufacturing in this country struggles to find a financially viable niche, there is no shortage of innovative custom boats being built here.
Cabo, designed by Scott Robson and built by Rangiora's Icon Custom Boats, is a good example. Although the first of a new line of Robson 433 Sport Fisher power catamarans, it is far from a standard model and will almost certainly be different from any that follow.
This is primarily because Cabo has been commissioned as a charter day boat to operate in Fijian waters. As such, the emphasis has been strongly on creating open, welcoming living areas and ensuring that the sections of the boat where the paying day-trippers will be spending most of their time are as comfortable and functional as possible.
The result is an open-plan design with an extra-large cockpit, huge saloon, a galley you might expect to find in a boat twice this size and a very modern, minimalistic design.
With relaxing, being entertained, diving and swimming being the main priorities for the guests, Cabo's owner insisted that the feel be a fresh and "beachy" one. One way this has been achieved is the choice of cool, ice-blue, Fiji-inspired fabrics, complemented by darker wood panelling.
Another is the open bow seating area on the foredeck. Whereas most powercats feature a conventional, reasonably flat foredeck - perhaps with padded sun loungers - Robson has inset a bowrider-like recess with padded L-shaped settees and a table. Nicknamed "the bunny pit" by her builders, Cabo's open bow area is reached through a wide opening hatch in the centre of the windscreen, or by using the side decks.
Because Cabo will often be nosing up to Fiji's beaches, a fold-down set of steps has been incorporated in the bow design. These are operated by an electric winch and pulley system and can be adjusted to whatever height is required. When closed, the steps blend into the natural hull lines. When not enjoying the view - and exhilaration - in the bow, Cabo's guests will have a choice of three areas in which to relax: the cockpit, the saloon or the flybridge.
Unlike many charter boats, Cabo has not been designed primarily to take people fishing so there are no tuna tubs, bait bins, rocket launchers or space-hogging bait stations. Instead, this large area contains everything needed for serious relaxing: sun pads, padded settees with swivelling tables, an electric convection barbecue, a combination fridge-freezer and an icemaker.
There is also a big drop-down ladder for divers and swimmers and pull-out stainless steel rails enable the stern area to be open to the sea while at anchor.
Another nice touch is a custom-made side-opening door, with steps, specially designed to match the height of the marina where Cabo will be moored. Although Cabo's saloon is of more than adequate size, the large galley that runs down the entire port side occupies about 50 per cent of it. Finished with a large Corian bench top and a two-element electric hob, large stainless sink, microwave and fridge-freezer, it can cater for a fairly high level of entertaining.
For those who like to watch others at work - or do not want to be in the open bow, cockpit or bridge - there is a large settee with a drop-down table that can, with a couple of loose chairs added, cope with six.
The flybridge has also been set up for entertaining and has an L-shaped settee.
As expected on a boat not primarily set up for fishing, the helm station is forward. The owner insisted on being able to keep an eye on those in the open bow at all times and this has been achieved by adding a glass reverse-sheer eyebrow.
Because Cabo will be operating in the tropics, the bridge has not been permanently enclosed. Instead, full clears keep out inclement weather.
For those occasions when the owners - and perhaps some guests - wish to overnight, Cabo has two double cabins, one in the forward section of each sponson.
There is also a large ensuite with walk-in shower on the port side with the matching area on starboard used as a utility and storage room.
Although the forward cabin space does not extend right across the roof of the tunnel, as is usually the case, both cabins have full-size double berths and plenty of storage. And the drop-down table in the saloon can convert into a double berth.
Cabo has an aluminium hull with composite flybridge, pillars and hardtop.
The result is a 14.5m LOA cruiser that has a full load displacement of only 14 tonnes.
Combined with Robson's asymmetric hulls and a pair of 330hp Volvo Penta D300 diesel engines (running through DPS legs), this lightweight speedster performs like a large powerboat and hits a top speed of 31 knots.
When cruising at 26 knots, the engines are pulling 3200rpm and using a total of 100 litres an hour.
Robson's offshore powerboat heritage is also evident in the tight turns. Cabo remains surprisingly level, drops virtually no speed and recovers remarkably quickly.
Thanks to the DPS legs, it is also very easy to trim the boat to best suit the conditions.
The high tunnels and fine entry ensure there is minimal hull noise, even when running hard in rougher water, and there is very little side roll, even when at rest, side on in the swells.
If you want to know more check out the boat test on the Robson 433 Sports Fisher in the May/June issue of Pacific Powerboat magazine or visit www.pacificpowerboat.com.