Boat sector given more time to take up 20ha council site but argument centres on urgent housing needs.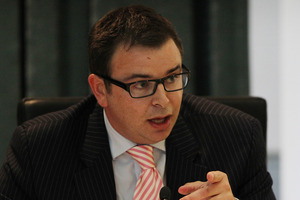 Houses could soon be built on 20ha of Auckland Council-owned land at Hobsonville, after the superyacht boat building industry shunned the chance to move there en masse.
Only one boat-builder is on the marine-zoned land which has cost ratepayers more than $30 million, yet the council voted yesterday to give the industry three more years to show interest, while also examining residential development prospects.
A debate between Auckland councillors over Yard 37 near the waterfront resulted in backing for an Auckland Council Property (ACPL) report by project director Leonie Freeman to consider both housing and boat-building, even though some councillors wanted to axe the marine precinct because boat builders had been given enough time already.
Councillor Cathy Casey made an impassioned plea to ditch commercial uses and examine developing affordable housing. Cameron Brewer criticised ACPL for what he said were overly optimistic projections 18 months ago for 2000 jobs, 20 boat builders, a world-beating superyacht industry and millions in council revenue from its plans.
"Ratepayers have already piled in about $30 million. Now they're set to pour in another $2 million plus. I'm getting sick of these rose-tinted reports, bullish business cases and empty promises," Mr Brewer said after the meeting.
Councillor George Wood questioned the council's role at Hobsonville, saying the private sector would do a better job developing houses, but Christine Fletcher backed the idea of examining a mixture of marine and house zonings simultaneously. The need to develop jobs as well as houses in Auckland was raised.
The council needs to rezone the land if it is to be used for housing. Houses have been built at Hobsonville Point, a ferry service is running from there to the CBD and more residential development is planned.
Ms Freeman said $52,000 had been spent marketing the land to the boat building sector but the financial downturn, the high dollar and competition from Asian boat builders meant the industry could not commit.
It could take up to 10 years for the sector to recover, and the council was at a critical juncture, she said. ACPL had examined keeping the whole block for either marine activities or housing, or a mixture of the two.