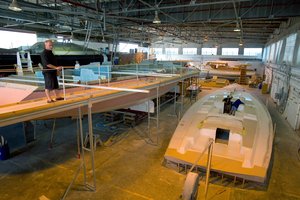 Ambitious plans to create a $150 million world-class marine industry precinct at Hobsonville near a vast new housing estate have met with a limp reception.
An Auckland Council meeting will today discuss progress at West Auckland's Yard 37, a key component of the overall Hobsonville Point development on a government-owned former airbase where about 2000 jobs were once expected to be created.
But the private sector has largely shunned the zone, hit by a global downturn and a high New Zealand dollar. Even with government support and financial backing from NZ Trade and Enterprise the concept appears to be a flop, with just one business in the zone.
A 20ha block of waterfront land 23km from Auckland's CBD has been dedicated exclusively to creating and maintaining the world's best super yachts and other marine services.
But the global economic downturn and strong competition from Asia has dampened enthusiasm from local industry.
Yard 37's website says it has just two significant tenants: Yachting Developments, which occupies a yard space that includes one of the heritage buildings adjacent to the main entrance, and Formula Cruisers, who make their range of vessels from a hangar outside the designated precinct.
Three years ago, Waitakere Properties chief executive Greg Parker - in charge of the marine precinct at the time - talked about plans for the development of 84,000sq m or 8.4ha of floor space of marine sheds, with facilities capable of housing superyachts up to 90m long.
But before the development could begin, freehold titles to the land on which the marine sheds will be built must be sold, he said.
Yard 37 secured a grant of $2 million from Trade and Enterprise to go towards marine infrastructure but a condition was that the $2 million be matched by private sector investment.
Parker said if a single investor was to build all the infrastructure and buildings for the development, it would cost about $150 million.
Peter Busfield, Marine Industry Association executive director, is interested in today's council committee meeting and said he looked forward to the success of the sector.
Yet he also noted how boat building businesses sometimes sprang up and thrived in areas like Wynyard Quarter's North Wharf.
"Hobsonville's taken 12 years to get off the starting block," he said.