One Hutchwilco New Zealand Boat Show visitor will catch a live one.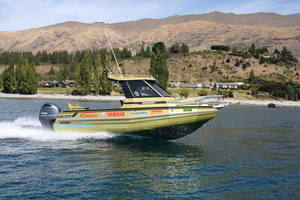 One lucky visitor to next month's boat show will win gold (almost literally!), driving away with a gold-coloured 6.4-metre Stabicraft/Yamaha package worth more than $100,000.
As a prize for doing next to nothing, it's pretty hard to beat. In return for attending next month's Hutchwilco New Zealand Boat Show, visiting all parts of the show, collecting stamps from the seven stamping booths, filling in their name and address and answering a simple question, one exceptionally lucky person will get to take home a rather spectacular boat package.
They will have spent $20 for their admission ticket, a little bit more for parking, and a few hours of their time (most spent looking at boats, engines and other marine goodies). As returns on investment go, it's not too shabby.
There's usually some sort of boat/engine/goodies prize won at the Hutchwilco New Zealand Boat Show in Auckland each May. But, even by their standards, this one is special. At its heart is Stabicraft's latest release: the new 2100 Supercab.
A 6.4-metre hardtop design, it was first launched just before Christmas last year and - as a result of extensive sea trialling over the New Year period - very slightly modified before going into production.
The prize boat is the first of the "tweaked" versions and it's a very impressive piece of kit. Based on last year's award-winning 1850 Supercab, which took out the show's Boat of the Show: All Purpose Under 6 Metres award, it features two of the company's latest pieces of technology: the Game Chaser Transom and Arrow Pontoons.
According to Stabicraft Marine's marketing co-ordinator, Tim van Duyl, the Arrow Pontoons have been designed to remove what he calls the compromise between ride and stability. "If you look at the shoulder sections, you will see the pontoon welds are raked back. This has reduced the surface area where the shoulders connect with short seas."
He says this has dramatically softened the ride, without affecting the stability and safety of the pontoon design.
The Game Chaser Transom is a profiled transom designed to deflect water around the transom, reduce drag and enhance reversing speed and manoeuvrability, especially when backing down on a fish or docking in a tight marina. It's also intended to increase the hull's buoyancy aft, giving better stability when there's a heavy outboard on the back.
This, however, will not be a problem with the boat show's prize boat. It has been fitted with Yamaha's latest offering: their new F200 FETX. A 200hp, four-cylinder, four-stroke outboard, it's claimed to be the world's lightest 200hp 4-stroke.
If that sounds like just more marketing hype, consider this: the new F200 weighs an astonishing 56kg less than the V6 F200, is a mere 6kg more than Yamaha's powerful two-stroke 200hp HPDI and, even more impressively, weighs 1kg less than the popular 150hp 4-stroke. The result of this collaboration (between the 2100 Supercab and new F200) is a 1900kg rig that can cruise at 18 knots (3000rpm) while using just 0.84 litres per nautical mile.
For those who consider 18 knots too sedate a speed at which to cruise, increase the revs to 4000rpm. The F200 will push the 2100SC along at 27.8 knots while still using just a fraction under 1 litre per nautical mile.
Those who are really in a hurry can run at WOT (Wide Open Throttle): 45.2 knots at 5800rpm (and burn fuel at 1.67 litres per nautical mile).
More importantly, at the other end of the rev range, this fishing-focused package will happily troll at 6.9 knots while consuming just 0.71 litres per nautical mile.
The new F200 has a few other smart features, too: a 2.8L double overhead camshaft engine, variable camshaft timing, a powerful 50-amp alternator (delivering 13 per cent more charging power than even Yamaha's V6 F200) and the company's patented Shift Damper System, which, using a splined rubber hub, greatly decreases the slight "thunk" often heard when shifting into or out of gear.
The 2100 Supercab is unashamedly targeted at fishers. This is especially evident at the business end of the boat, where a unit containing a large live bait tank (complete with viewing window), alloy rod holders and a bait station sits proudly in the centre of the transom.
Thought has also gone into the design of the aft corners. Stabicraft's research showed people like to fish from these areas, so their designers ensured they could: the rear seats, when not in use, fold up and give superb access right into the corners.
The cockpit is large and spacious, with plenty of stowage, including large side pockets, four rod-holders in the coamings and further rod stowage above in the rocket launcher.
As an added bonus for the show-goerwho wins this boat, Stabicraft has added a Jabsco wash-down system, handily positioned in the starboard locker. Other extras include a rear boarding ladder, a starboard windscreen wiper and that stunning metallic gold finish.
Although the 2100 isn't really an overnighter, its 200-litre underfloor fuel tank gives a cruising range of more than 200 nautical miles and the spacious cabin features a traditional V-berth that's 1.8m long. With its infill in place, it makes a generous double that can sleep three at a pinch. Underneath is a substantial alloy dry locker (the squabs act as the lid) and a step-over bulkhead ensures items left in the cabin stay there.
The prize boat has a Furuno GP1870F fish-finder/chart-plotter mounted into an attractive powder-coated dash, and a Uniden VHF and Fusion stereo system mounted over to the left, within easy reach of both the skipper and the front passenger.
A Maxwell RC6 capstan anchor winch graces the foredeck and there's more than 1.9m of headroom under the protective hardtop.
Those hoping to win this magnificent prize can view it at the Hutchwilco New Zealand Boat Show at the ASB Showgrounds in Greenlane, Auckland, on May 16-19.
After entering, hopeful winners need wait only until shortly after the show closes for the year, at 6pm on Sunday, May 19. As soon as the draw has been completed, the winner will receive what is likely to be the best phone call of his or her life. They will be able to collect their prize (complete with registered and warranted trailer) from the Showgrounds the following day. The lucky sods.


Prize boat package
Boat: Stabicraft 2100 Supercab
Power options:130-200hp single/twin outboard
Engine: Yamaha F200 FETX
Fuel capacity: 200 litres
Priced from: $89,000
Price as described: $110,000
To be won at the Hutchwilco New Zealand Boat Show, ASB Showgrounds, Greenlane, Auckland, May 16-19.
Want to know more? Check out the comprehensive boat test on the Stabicraft/Yamaha boat show prize package in the May/June issue of Pacific PowerBoat magazine or at www.pacificpowerboat.com.