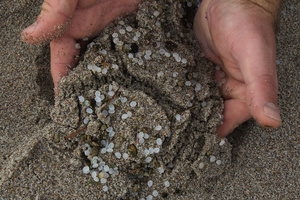 Fresh Rena debris found washed ashore from Mount Maunganui to Maketu is why the cargo ship must be removed from Astrolabe Reef, residents say.
Wild weekend weather released countless 2.5mm Lotrene beads from inside Rena's sunken stern. They are the same beads that sparked environmental concern when they washed up in 25kg polyethylene bags at Matakana Island last year.
Beads still lined the sand yesterday. By 5pm, 46 bags had been recovered from the water, and about 30 bags were recovered from Motiti Island and one from Maketu.
Papamoa resident Jane Kearns was walking her dog when she noticed the beads and blackened sand.
"I just thought it was the tractors dispersing something," she said.
Rena Business Compensation Group spokesman Nevan Lancaster said the beads were an example of what could happen if the ship was left of the reef.
"It wasn't as bad as it would be if a cyclone came down from the Pacific. We haven't had any serious weather and we are having crap washing up on the beach like this."
Island representative Rangi Butler said residents still wanted full wreck removal and the release of beads was a perfect example of why.
Resolve salvage master Frank Leckey said he saw about 20 bags on a survey flight yesterday between Motiti Island and Papamoa beach. The bags are believed to have come from a broken container a team tried to secure with tarpaulins, magnets and steel plates before the weekend.
"We covered it as best as possible but then that big weather came in," Mr Leckey said.
Rena insurer The Swedish Club spokesman Hugo Shanahan said the release of the beads was frustrating.
Resolve divers would be back in the water as soon as it was safe. The black tide line was large clumps of seaweed, not oil, and the beads were more of a visual nuisance than an environmental risk, Mr Shanahan said.
The weekend's events were due to adverse weather and highlighted the ongoing difficulty of working on the stern section with volatile seas. "When the severe weather warning came in, work had to stop and the partially-intact container was covered ... if the severe weather hadn't got in the way, we wouldn't be dealing with the current situation," Mr Shanahan said.
Oiled-wildlife response manager Helen McConnell launched an investigation into the beads after serious concern was raised last year following reports of possible deaths of wildlife, predominantly birds, ingesting the beads.
But Ms McConnell said yesterday the investigation did not prove any of the bird deaths were related to the beads.
For more articles from this region, go to Bay of Plenty Times