American imports have come a long way since the 'lakeboats' of the '80s.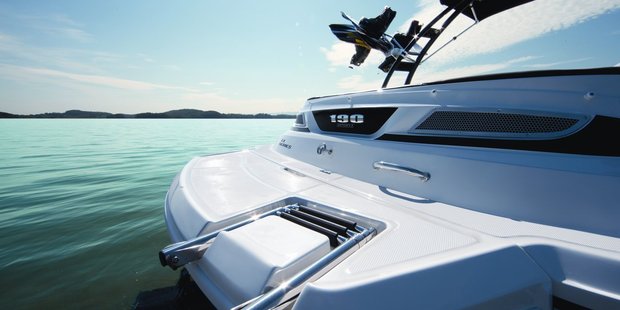 The compact helm design of the Sea Ray 190 gives a clear view of the gauges while the extended swim platform reaches beyond the stern drive.
The Sea Ray 190, while typically American is style and polish is quite capable of handling of the sometimes rough harbour and Hauraki Gulf.
When American boats first started to arrive in New Zealand in significant numbers, in the late 1980s, they were generally dismissed as flat water "lake boats".
Most were either cuddy cabin style or bowriders. They were also not designed for fishing.
That immediately put them offside with most Kiwis boaties and that antipathy was, naturally enough, greatly encouraged by local boatbuilders. After all, they had no desire to compete with foreign boatbuilders, the local rivalry was fierce enough.
Fast forward to 2013 and the Americans are still with us. There is a section of the market that clearly prefers their well-appointed, good-looking bowriders to our more traditional trailer boats.
What's more, they don't appear to give the proverbial about whether can one fish from them or not.
They also seem to have realised that not all American bowriders are hopeless in the rough. For example, Sea Ray's new 190 BR has an LOA of virtually 6 metres and, with a 19-degree deadrise, is just shy of a true deep vee design (generally thought of as 20-25 degrees).
That means it is capable of delivering a reasonably comfortable ride, even in water conditions that would force shallower-deadrise hulls back to the launch ramp (or their occupants to the physio).
Powered with a standard 135hp MerCruiser 3-litre MPI engine, with an Alpha One sterndrive, the 190 can reach speeds in the mid-30s (knots).
It is also available in what I suspect is a more popular version: powered by a MerCruiser 220hp V6 4.3-litre engine. This delivers a top speed of 46.2 knots. At this speed, expect to burn 63.6 litres per hour. With a 98-litre fuel tank this means a range of 74 nautical miles.
At more economical speeds, the 190/220hp combo will hit 20.5 knots at just 2500rpm (using 19.1 litres per hour) and 23.7 knots at 2750 rpm (burning 22 litres per hour). At both speeds the fuel economy is less than a litre per nautical mile and the range is a more useful 95 nautical miles.
As one would expect with 220 horses in an open boat with a dry weight of just 1179kg, the 190 is quick off the mark. It reaches planing speed in just 4.8 seconds and accelerates to 26 knots (30mph) in 11.2 seconds. Once underway, just a couple of touches on the up-trim button will bring it to the 5-degree bow high attitude it needs for best performance.
Thanks to Sea Ray's patented Vented Chine design (which enhances the boat's tracking and alleviates tendencies to skid or slip), the 190 clings to the water as if it's on rails. This means the skipper needs to ensure everyone is sitting down and holding on before they attempt any aggressive high speed turns. Turning at cruising speeds is more comfortable, with just a docile slide.
Sea Ray offers a number of options that let customers personalise their boats. There are three different graphic and gelcoat colour packages and the chance to upgrade to bucket seats with flip-up bolsters and sectional, snap-in carpeting.
The fit-out and level of appointment is impressive, especially given the relatively low price tag (from just $57,900). A sleek, black-framed windshield tops the consoles and, while this is an attractively low-profile, it could have taller occupants ducking to avoid spray.
The compact helm design allows a clear view of the gauges and digital depth finder over a standard padded tilt wheel. The latter is, thankfully, equipped with power-assisted steering.
The layout also offers easy access to the weatherproof switch panel, its lighted chrome toggle switches and ignition. The throttle position is such that one can easily drive from either a standing or seated position. It is situated over a handy open storage area and there is a drink holder recessed into the gunwale. A Sony 12V AM/FM stereo with CD player and MP3 port comes standard.
In the cockpit, the aft bench seat features deeply padded, premium vinyl contoured backrests and its base lifts up to reveal a large insulated ice chest.
Most boats of this style and class have one or two opening hatches in the sunpad that stretches over the stern of the boat. The 190 has three. The port and starboard ones are gull wing hatches that provide access to handy stowage areas and the engine hatch in the middle hinges aft. All three can be opened while underway. They also all feature premium multi-point hinges that allow them to open a full 90 degrees, giving really good access to the compartments below.
In a nice touch, the engine compartment has been finished with moulded gelcoat surfaces. These will be a great help in keeping this area looking clean and new (engine compartments that are rough finished in the conventional way collect dirt, oil and grime that is hard to remove).
The 190's extended swim platform is almost full width and, more importantly, reaches beyond the sterndrive. The obligatory boarding ladder is of the three-step, telescoping variety.
The open bow provides wide forward seating, with armrests integrated into the gunwales. There is also a padded backrest at the bow to accommodate an aft-facing passenger on the centreline and the forward location of the stereo speakers ensures the music is directed back into the boat, as it should be.
Back when those first American bowriders were arriving I remember discovering that, under the bow seat squabs, the lockers were full of shards of unfinished fibreglass, still attached to the hull. What a shock for the new owner. I thought. They get their new boat home and then have to spend hours sanding and cleaning out all the bow lockers.
Luckily, there will be no such problem with the Sea Ray 190. Each of the stowage compartments under the bow seats has thoughtfully been carpeted and there is even a separate locker for the anchor and rode.
Want to know more?
Check out the comprehensive boat test on the Sea Ray 190 BR in the March/April issue of Pacific Powerboat magazine or at www.pacificpower boat.com.


Sea Ray 190 BRLOA:5.99m
Beam:2.21m
Deadrise:19°
Weight (dry):1179kg
Construction:GRP
Engine:MerCruiser V6 220hp 4.3L
Fuel capacity:98 litres
Priced from:$57,900