With its focus on quality, the Meridian range is already selling well Downunder.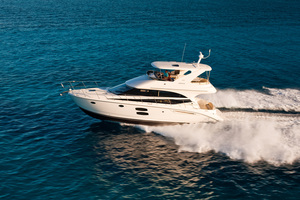 One of North America's fastest growing flybridge boat manufacturers seems to be finding favour here, too.
Ask most "marine watchers" what they think of Meridian boats and one is likely to draw a pretty blank look. The brand certainly doesn't have the recognition of a Sea Ray, a Riviera or a Maritimo, yet it is one of the fast-growing lines in this part of the world, on both sides of the Tasman.
Based in Knoxville, Tennessee, Meridian Yachts is part of the Sea Ray Group which, in turn, is an operating unit within the Brunswick Boat Group (the same people who own Mercury, Mariner and Bayliner, among many others). Meridian is represented in this part of the world by Sports Marine, which has offices in Auckland, Christchurch and Sydney.
According to Sports Marine's Scott Williamson, the Meridian range is establishing a good following in New Zealand and Australia, and around the Pacific Islands. Eight new Meridians have already been sold, the most recent being a new 441, which was delivered to Fiji In December.
The Meridian range is reasonably small, with just four models ranging from 10.4m to 16.2m.
According to Williamson, the 441 Sedan is the most popular.
One of the reasons Meridian is enjoying such success is what Captain Steve Larivee calls its continuing desire to upgrade its quality. Larivee, who works for the US-based independent Boattest.com, praises Meridian's focus on improving the quality in "liveability and aesthetics", areas he believes other manufacturers often struggle to get right.
"Even Meridian's smaller yachts have an eye appeal that others seem to lack," he says.
"In our opinion, its mid-range yachts have really nailed down the combination of comfort and style."
Like all American pleasure craft, Meridian names its models based on their hull length in feet. This means the boats often sound smaller than they actually are. For example, the 441 is, not as one might expect, a vessel slightly longer than 44ft (13.4m). Instead, it has a LOA of 14.3m (nearly 47 feet).
Combined with a 4.3m beam, this extra length makes this a very spacious "44 footer", one able to incorporate a large flybridge, two good-sized cabins, a generous saloon with separate dining and relaxing areas and a compact cockpit.
There is no doubt a substantial flybridge is a must in a boat of this size, especially if, as is the case here, there is just a single helm station. When under way, virtually everyone wants to be on the bridge. It is where everything is happening and where, of course, one gets the best views.
So Meridian has ensured there is enough room for all of the 441's crew to comfortably relax up here. For the skipper, there is a reclining helm chair, with a forward-facing bench seat, ideal for one or two, alongside.
Further aft, a large L-shaped settee with backrest curves around a table.
In between, an entertainment centre with sink and optional electric grill separates the two areas. Other popular options include a refrigerator to starboard and a 23" (58cm) LCD TV with DVD on top of the fridge - perhaps not everyone enjoys watching the scenery pass by ...
The 441 also comes with some fairly trick electronics. Digital controls are standard, as is an engine synchroniser and Meridian Yachts' exclusive "Docking on Command" feature, which links the bow and stern thrusters into a single control.
Also available as an option is the even more sophisticated Integrated Vessel Control (IVC). This operates in much the same way as the Docking on Command system but also includes control over the transmission. Where one would have previously manoeuvred sideways and added forward or reverse to move diagonally, IVC does it all with a single control.
IVC is available on Meridian 341, 391 and 441 Sedans, with twin inboards and bow and stern thrusters, but not on models equipped with Zeus pod drives.
Another option is to replace the standard bimini top with a glassed-in hardtop. While this would obviously add to the initial outlay, it will pay dividends on cooler days and when one is caught out in the weather, especially as the only helm station is on the bridge.
When not up top, the 441's crew will no doubt congregate in the spacious saloon. Although reasonably open plan in design, it has been divided into two distinct areas: the saloon proper at the rear and the galley and dining area further forward.
The saloon has a large sofa on one side and two chairs and a small table and lamp on the other. Large windows let in lots of natural light and are deliberately low enough to give a view of the horizon.
The step-up galley is small but perfectly adequate for this size of vessel. It is also well equipped: a full-height refrigerator/freezer, double sink, convection microwave, high gloss cherry cabinetry, three-burner stove and Karadon countertops throughout.
The dining area opposite features a U-shaped settee and table.
The 441 has two cabins or staterooms: the guests' amidships and the master in the focsle. They are pretty interchangeable, with Larivee, for one, believing it should be the other way around.
The guest cabin spans the yacht's full beam and features a double-sized island berth, built-in chest with three drawers, cedar-lined hanging locker, a desk with electrical and phone jacks, and a vanity with flip-up mirror and stool. Its en suite doubles as a day head.
The master stateroom features a queen-sized island berth, deck hatches and portlights to either side and an en suite.
Standard power is twin 380hp QSB Cummins electronic diesels and there are two upgrade options: to a pair of 425hp QSB CMD engines or to a pair of 480hp QSB CMDs. Both straight drives and Zeus pod drives are available with the two upgrades.
With a conventionally driven pair of 425s, the 441 will hit a top speed of 25.1 knots at 3280rpm, while using 188 litres per hour. In contrast, a pair of pod-driven 480s will top out at 32.7 knots at just 3300rpm, using at total of 188 litres per hour.
Meridian also offers a couple of options that are well worth considering: an engine oil changing system and a fuel transfer pump.
It also fits its own Smart Battery System: this knows which batteries need charging and how much cycle time each needs for maximum battery life. If the house batteries run down, the Smart Battery System simply takes power from the cranking batteries, but cleverly ensures there is always enough left to start the engines.
Want to know more? Check out the comprehensive boat test on the Meridian 441 in the March/April issue of Pacific Powerboat magazine or at www.pacificpowerboat.com.


Meridian 441
LOA 14.3m
Beam 4.3m
Draft .9m
Displacement (dry) 14,197kg
Construction hand-laid GRP
Engines two x Cummins QSB 5.9
Maximum speed 30-32mph
Cruising speed 25-27mph
Fuel capacity 1535 litres
Water capacity 545 litres
Base price $950,000
Price as described $995,000