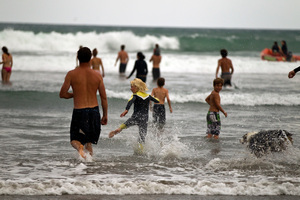 One of the sunniest summers in more than 50 years saw almost 600 extra people rescued from New Zealand beaches during the patrol season compared to the same period the year before.
Most took place in the northern region where there were 619 rescues compared to 478 in the previous season, which begins on the Labour Day weekend and ends at Easter.
Nationally there were more than 1600 people pulled from the surf, above last year's total of 1088.
The most dramatic were the rescue of 28 people in two separate dramas at the end of the season. Ten Korean fishermen were plucked from a rock at Port Waikato last month and 18 schoolchildren were caught in a rip at Dunedin in February.
The busiest beach was Muriwai - also the site of a fatal shark attack - but Volunteer Lifeguard Service chairman Tim Jago said he was not surprised by its 105 rescues for the year.
"Yes it's a season of high statistics but ... when more and more people go to the beaches, statistically you're going to have more rescues,'' Mr Jago said.
"Truth be known we didn't feel busy because surf conditions have been spectacular.
"Whilst we've been busy and we've certainly been tired at the end of the day, you wouldn't have said we were stressed [and] you wouldn't have said we were getting desperate.''
There were 12 drownings at beaches during the summer, double the number from the previous year, Water Safety New Zealand said.
Surf Life Saving spokeswoman Lisa Honeybone said it was believed only one person drowned at a beach during lifeguard hours. A 43-year-old man could not be revived after being pulled from the surf about 600m from the flagged area of Whiritoa Beach on the Coromandel on Christmas Eve.
Volunteer lifesavers spent more than 200,000 hours patrolling about 80 beaches, undertook more than 1980 first aid treatments, conducted 580 searches and took more than 120,000 preventative actions.
Surf Life Saving northern region chief executive Pam Elgar said many people rescued from the surf had ignored safety messages.
"We're ... seeing consistencies in drowning incidents where people are wearing inappropriate clothing and are unaware of hazardous surf conditions and rips,'' Ms Elgar said.
Top 10 nationwide rescue statistics:
1. Muriwai - 105
2. Raglan - 92
3. Whangamata - 61
4. Taylors Mistake (Christchurch) - 58
5. Piha - 57
6. Mt Maunganui - 55
7. Omanu - 52
8. Karioatahi - 46
9. Papamoa - 46
10. Opunake - 46
- APNZ