It may be small, but Stabicraft's latest model incorporates many of the new features from its larger siblings.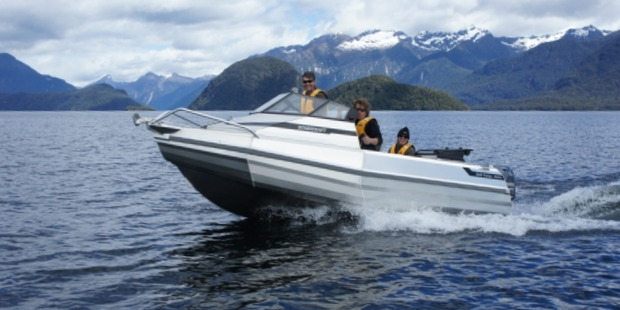 Although there are increasingly positive signs that things are, at last, looking up for the marine industry, many major boat manufacturers are still focusing on the smaller, more affordable end of the market.
The latest to join this trend is Stabicraft, the well-known aluminium pontoon boat builder from Invercargill.
Stabicraft claims, with quite a lot of justification, to be New Zealand's largest trailer boat manufacturer. Although based about as far from the world's boating markets as it is possible to be, the company has proved incredibly successful. It boasts an extensive 28-strong dealer network that encompasses not just every part of this country, but parts of Australia, North America and New Caledonia as well.
With their trademark alloy hulls delivering large amounts of positive buoyancy, Stabicraft boats have a reputation for being able to handle just about any sea condition. As a result, they have been chosen by groups as diverse as the Australian Customs and Border Protection Service, the University of California Marine Science Institute and the Alaskan Department of Fish and Game.
The company's latest foray into the small boat market is their new 1650 Fisher, an open, all-alloy, family fishing boat 5 metres long and designed to be powered by a mid-sized (60-100hp) outboard.
It was developed, says the company's marketing man, Tim van Duyl, as a result of extensive market research showing a clear demand for an affordable family "16-17ft all-alloy fisher".
The 1650 was released just before Christmas and has already proved quite a success, says van Duyl. When I visited the Stabicraft factory in mid-December, the first 1650s were nearing completion on the shop floor. While there is always a fair amount of excitement around any new model, it was impossible to miss the enthusiasm surrounding this design.
As van Duyl explains, the company wanted to create a boat that boasted both robust construction and good on-water performance, while also having a strong inventory of standard features for fishers and their families.
"We wanted to create an exciting hull to drive with all the features fishermen want," he says. "The hull had to excel both in terms of ride and performance, but like all Stabicrafts, it had to inspire confidence on the water."
Those fishing features include a centrally mounted bait station, high gunwales and easy access to the water over the Game Chaser Transom. Like the Arrow Pontoons and the new fold-up rear seats (both also featuring on the 1650 Fisher), the Game Chaser Transom was first released on Stabicraft's 1850 Supercab, winner of the Boat of the Show Award in the All Purpose Under 6 Metres category at the 2012 Hutchwilco New Zealand Boat Show. (Both also feature on Stabicraft's latest model, the 2100 Supercab, to be given away at this year's show).
Both the new transom and the new pontoons have been designed to add more displacement and buoyancy to the stern of the boat. This, says van Duyl, makes reversing (when coming in to the dock or when backing down on a fish) "faster, smoother and safer" and delivers a softer and drier ride.
"It brings a new element to working prize catches, as well as manoeuvring around marinas and enclosed waters," he says.
The new 1650 Fisher also has a scratch-resistant walk-through glass windscreen (giving easy, safe access to the large anchor well) and carefully positioned grab rails, rod-holders and cup-holders.
The 1650 Fisher's design is also far more angular than previous Stabicraft models.
This is in large measure because the 1650 Fisher is an all-alloy boat; previous models in the Fisher range have had GRP cabins.
Among the many standard features is a bolt-on bait station, complete with a large cutting surface and some of those handy rod- and cup-holders. It lives above the centrally-positioned, raised battery compartment.
Those new fold-up seats are also a good idea, making a good place for the crew to rest while under way or when it's time to relax. When not in use, as their name suggests they fold up out of the way, creating more useable cockpit space and giving easy access to the water.
Although the 1650 Fisher is basically an open boat with a cuddy cabin for stowage, padded squabs help create a comfortable refuge for those looking to get out of the sun (or perhaps needing a nana nap after a hard evening's celebrating).
Although the 1650 has been designed as an affordable entry-level, or a bit above, type of craft, the Stabicraft crew have been around long enough to know that Kiwis traditionally like to "bling up" their boats a bit. To that end, the company thoughtfully offers a number of extras.
For the serious fishers, there is a 66-litre live bait tank; for the waterskiers, wakeboarders and tow-toy enthusiasts there is a ski and tow pole and, for those wanting a bit more luxury, there are the extremely comfortable Ocean Bolster seats.
Word has also just come through that Stabicraft is about to announce a new 1650 Fisher package that will be available nationwide through its dealers. It will consist of a standard 1650 Fisher, a four-stroke Yamaha 70hp outboard, a trailer and, no doubt, some other extras that have yet to be announced.
Although final pricing is yet to be released, my understanding is that it will be offered for less than $40,000 (possibly around $37,000).
Stabicraft 1650 Fisher
Length 5m
External beam 2.15m
Internal beam 1.65m
Construction Aluminium
Tow weight 1100kg
Fuel capacity 100 litres
Tidelines
The French Bay Yacht Club's annual regatta is on tomorrow.
French Bay hosts regattaThe annual French Bay Regatta on the northern inner shores of the Manukau Harbour tomorrow is expected to attract more than 60 boats from all over Auckland.
Club commodore Matt Hall Smith says the regatta is one of the best events on the sailing calendar.
This year the field includes 12ft skiffs, Jollyboats, Zephyrs, Starlings and Optimists, all expected to enjoy the harbour conditions.
"The Manukau Harbour is vast, immensely tidal and virtually empty of traffic," he says.
"With a clear run for the prevailing south-westerly, it can offer exceptional and challenging sailing."
Local sailors will also be hoping to use the regatta to reclaim the Manukau Shield from the Weymouth Yacht Club, which is based on the opposite side of the harbour.
German fusionThe New Zealand-based marine audio equipment manufacturer Fusion has signed a partnership agreement with German boatbuilder Hanse Yachts AG.
Under the terms of the new multi-year deal, the company's stereos will be offered as an entertainment option on all new Hanse vessels.
Fusion stereos will also be available on other Hanse Group boat brands, including Moody, Dehler and Fjord.