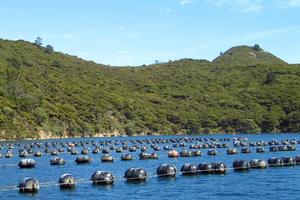 Plans to prise open harbours for new fish and shellfish farms have fishermen worried they and other recreational water users may be shut out of their favourite bays.
Marine farmers have welcomed moves by the Government to end what they say is a stifling regime, but the Recreational Fishing Council fears a proposed revamp of the rules will threaten public rights.
"It seems like we are going back to the rules of old where there is really nothing to stop people applying for marine farming space virtually anywhere," said council president Geoff Rowling.
"[Our concern is that] you might turn up to your favourite bay next summer and find it full of marine farm."
Applications for marine farms can be made only in specially earmarked areas - called Aquaculture Management Areas (AMAs).
The trouble for would-be fish farmers is that no new AMAs have been created since the previous Government lifted a moratorium in 2004.
A technical advisory group tasked with finding ways to restart the industry has recommended lightening up on marine farms and removing some of the double-handling of applications.
It has also recommended giving the Environment Minister the power to bypass regional councils, which normally make coastal planning rules, and insert rules allowing for marine farms directly into coastal plans.
Coastal policy researcher Raewyn Peart of the Environmental Defence Society called that part "appalling".
"The credibility of the whole system would fall into question if there was that sort of interference."
Ms Peart said many of the changes suggested by the advisory group were sensible, such as putting a $100- to $200-a-hectare levy on marine farms to help cover costs to councils and avoid a "gold-rush" for free space.
But she questioned a proposed new aquaculture agency that the advisory group says would act as both watchdog and promoter of the industry.
The agency's tasks would also include helping develop regulations, recommending when the minister should bypass councils and preparing marine-farm applications on the Government's behalf.
"You can't have an agency tasked with promoting the growth of an industry and say it will also make rules and ... have a hand in making applications," said Ms Peart. "That is nonsense."
Another proposal was for a "minister for marine farms" combining a role now shared between three ministries. The advisory group said Prime Minister John Key should pick a single minister.
There are 7000ha of near-shore marine farms in New Zealand and theGovernment wants to lift that to a $1 billion industry by 2025.
Submissions on the technical advisory group report can be made until December 16.
SEE ALSO
Fishing reform - Green Page, A7