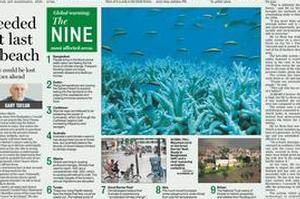 In a letter to the New York Times, atmospheric scientist Dr Martin Hertzberg accuses that newspaper of "continuously regurgitating fear-mongering, anecdotal claptrap of global warming propagandists".
An article reprinted from the UK Telegraph last week in the Herald's Green Pages, "Global warming: The nine most affected areas" might be a candidate for similar criticism. I am grateful to the Herald for this opportunity to set the record straight.
Bangladesh - sea level
There is no evidence to link events in Bangladesh with global warming. The Bangladesh delta is subsiding because of the weight of river sediments deposited there. But considering this alone can be misleading, since sediments settle along the coast and create new land. An article in the science journal Nature in January this year reported: "It's adding nearly 20 sq km a year in the coastal areas."
Sudan - expanding deserts
Studies since 2003 have provided empirical evidence that the Sahara desert is shrinking as plants reclaim the land. Aerial data shows areas affected are in northwestern Niger, central Chad, much of Sudan and northern Burkina Faso. Increased rainfall since the droughts of the 1970s and 1980s and improved farming techniques have reversed the trend towards desertification.
Caribbean - hurricanes
The number of intense hurricanes in the Atlantic declined during the 1970s and 1980s, and the period 1991-1994 experienced the smallest number of hurricanes of any four years over the past half-century. A research article this year by atmospheric scientist R.N. Maue reports that hurricane activity remains near 30-year historical lows.
Australia - droughts and bushfires
Findings based on CSIRO research in 2006 showed that recent droughts in Australia are the result of natural variations in climate. An article in Geophysical Research Letters confirmed that atmospheric circulation systems in the Indian Ocean are the main cause of major droughts and bushfires in southeast Australia.
Siberia - warming
A research article in the International Journal of Climatology in 2000 showed that there is no evidence of significant warming in Siberia. There was a warm period in the Arctic that peaked in the 1930s, then a period of cooling (1960s and 1970s), and then some recent warming in the 1930s. Natural climate variability is the likely the cause.
Tuvalu - sinking
There has been no discernable sea level trend since studies began in 1993. There is some inundation evident, but it is the result of erosion, sand mining and construction projects. Excessive use of freshwater for irrigation also causes destruction of underground freshwater reservoirs. The atolls are not static. It is noteworthy that historical global records show no acceleration in global sea level rise in the 20th and 21st centuries.
The Great Barrier Reef - in decline
The Great Barrier Reef is in excellent health. No evidence exists for a trend of increasing water temperature, nor for damaging regional human impacts outside the immediate vicinity of developed resorts. The reef has withstood past global coolings and warmings of several degrees over many millennia.
Alps - glaciers retreating
Swiss researchers Ulrich Joerin and Christian Schluechter have shown that Alpine glaciers were smaller during Roman times than they are now; 7000 years ago, they possibly disappeared almost completely. The advance or retreat of a glacier depends on snowfall as well as on temperature. The logic we are fed is that glaciers recede only because of warming. This is not correct. Norway reported last year that, after years of decline, glaciers in Norway are again growing. In New Zealand, the Fox Glacier and Franz Josef Glacier are growing.
Britain - more floods and storms
According to a 1996 report by the Intergovernmental Panel on Climate Change (IPCC p. 173): "Overall, there is no evidence that extreme weather events, or climate variability, has increased, in a global sense, through the 20th century ..." There is a similar statement in the 2001 IPCC report. The June 2003 issue of the scientific journal Natural Hazards was devoted to assessing whether global warming causes extreme weather. The editors concluded that most studies find no such connection.
* Chris de Freitas is an associate professor in the School of Environment at Auckland University.