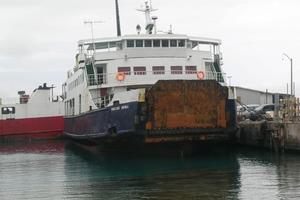 Tongans have been given yet another possible reason their doomed ferry Princess Ashika sank - the captain was sleeping as it filled with water.
An inquiry into the tragedy has revealed a raft of possible explanations why the ageing vessel rolled and sank late on August 5, taking more than 70 men, women and children to their deaths.
Extensive corrosion, large holes and poor lashing of freight carried on deck have all been named as suspect causes of the midnight accident.
But adding to the murky picture is fresh news that the boat's captain, Maka Tuputupu, had actually been asleep through much of the ordeal, the Matangi Tonga newspaper reported.
A passenger, boat mechanic Tangimana Lemoto, has told the royal commission of inquiry under way in Tonga that he was on the bridge for the final hour of the sinking.
The boat slowly listed and flooded while the captain slept in a cabin nearby, Mr Lemoto said.
Asked at what point the captain emerged, he said: "The vessel was already seriously tilted and I was standing outside the bridge.
"I heard someone come in to wake the captain up. And that was the only time I saw the captain go into the wheelhouse, when he was woken by this person," he said.
"The last thing I knew was that I heard him making the mayday calls."
Five minutes later, the boat had sunk.
The captain, who was one of the 54 men who survived, has already told the media he expects to go to jail for his role in the disaster.
Mr Lemoto was also able to confirm the rumour that passengers were given no warning of the situation, despite the fact that crew had been bailing water with buckets for two hours before the ferry went down.
The commission will hear evidence for several months before presenting its final report to King George Tupou V next March.
Captain Barry Young, from the New Zealand Maritime School, said it was a hard case to investigate because there was a "litany of concerns" surrounding the 37-year-old vessel, which had been bought from Fiji just one month before the sinking.
"There were just so many problems, as we've been hearing," Mr Young said.
"It's hard to know where to start with it."
- NZPA