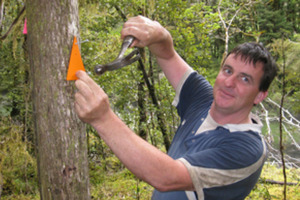 A skipper feared dead along with a crewman after his fishing vessel sank in Fiordland had been described as a "real good bugger" after he rescued eight people from a sinking boat.
Rescuers late last night remained hopeful of finding the men despite the semi-submerged hull of their crayboat K'Cee being found offshore from Doubtful Sound at dusk yesterday.
The experienced skipper of the K'Cee, Bruce Robert Gordon, 42, and his crewman Darren James Allen, 37, both of Te Anau, were last heard from at 8.15am on Monday when they set off to go fishing.
Emergency services were notified about 9.45am yesterday after debris from the 9m aluminium vessel was spotted off Secretary Island, which separates Thompson and Doubtful Sounds.
Southland area commander Inspector Lane Todd told Radio New Zealand an Air Force Orion searched a 640 km area of the sound over four hours overnight.
He said a "minor matter" came up on a radar during the flight, and a helicopter will investigate further at first light.
Three helicopters and six local vessels are to join the search for the missing men this morning, while a fixed-wing Cessna is on standby.
Mr Todd said weather conditions are good in the area, and a full day of searching is expected.
He said debris from the vessel was drifting away from the shore, with the hull of the vessel found 4km from shore.
"We are hopeful that the two men did get out into an inflatable dinghy - there is also the suggestion there was an aluminium dinghy on board, so we are hopeful they got onto one of those," Mr Todd told Radio New Zealand.
He said the pair are understood to be experienced fishermen who knew the area well.
Mr Todd said given the damage sustained on the bow it appeared there had been a "major impact".
A search involving three helicopters, four local fishing vessels and a Department of Conservation support vessel was being made yesterday.
An Air Force Orion was scheduled to arrive last night to help.
Those who know the pair hope they made it to Secretary Island.
In March, Mr Gordon came to the rescue of Sam Bennett and seven of his mates when their boat sank near Seymour Island.
Mr Bennett, 24, was yesterday considering getting involved in the search effort for Mr Gordon and Mr Allen.
He planned to "ring a few people" last night to see what he could do to repay the man who helped him.
"He's an unreal guy. Throughout the whole [rescue] ordeal he had been ringing Mum and letting her know what was happening with the boat. He was the one that went back and found it after it had sunk.
"He's always good for a laugh. Even when he picked us up, he just made jokes really. That's all you can do."
Mr Bennett's mother Pam, who owned the sunk vessel, said Mr Gordon used to babysit her children.
"We are just absolutely gutted. He's such a lovely guy. And the guy that was with him - he's a real honey as well."
Mr Gordon had taken her out on his boat to salvage what she could from her sunken boat.
"He's a real good bugger."
She thinks there is a good chance the pair could have made it to Secretary Island.
The of the vessel was found about 16km off the island.
Mr Gordon's wife yesterday confirmed her husband was captain of the K'Cee but declined to comment further.
Southland harbour master Kevin O'Sullivan said the search operation was being co-ordinated from Te Anau.
"We've got to remain optimistic," Southland police area commander Inspector Lane Todd told the Otago Daily Times last night.