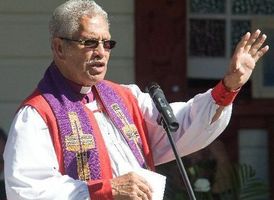 Opposition to a controversial Rotorua roading plan continues to grow, with the Anglican Bishop of Te Manawa o Te Wheke speaking out against the proposal.
Bishop Ngarahu Katene said he and his Amorangi - the diocese of Maori Anglicans he leads - are taking their concerns about the planned Eastern Arterial project to the Rotorua District Council and the New Zealand Transport Agency (NZTA).
The NZTA has said it has extended its consultation phase to at least the end of this year to try and come to an amicable agreement.
The Rotorua Eastern Arterial would run from the airport to Sala St, cutting through a Maori reservation, would require the purchase and demolition of 12 properties and could cost up to $90 million.
Local politicians say the road is essential for the city's future economy with a possible start date set down for any time between 2020 and 2025.
The bishop's spokesman, the Reverend Ngira Simmonds, said the three Te Arawa hapu directly affected by the proposed road - Ngati Hurunga Te Rangi, Ngati Te Roro o Te Rangi and Ngati Uenukukopako - had already given land to the council for roading and city development when Rotorua was established and shouldn't be expected to hand over more.
"It's the God-given right of these hapu to occupy their whenua [land] and to exercise kaitiakitanga [guardianship] over that land.
"We also believe this proposal is contrary to Te Tiriti o Waitangi [Treaty of Waitangi] - because the treaty guarantees Maori the right to exercise rangatiratanga [sovereignty] over their lands."
Since the NZTA confirmed the go-ahead for the road in early April there has been growing public opposition.
About a month ago a Facebook page was set up, called Resistance Against Te Arawa Land Confiscation, as well as an online petition, by concerned Owhata residents.
For more articles from this region, go to Rotorua Daily Post