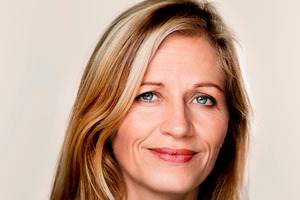 The political party of a Danish MP who branded her Maori powhiri experience as "grotesque" and "uncivilised" has apologised for her comments.
But the Danish woman who translated the piece says it is "hardly an apology".
Danish Folkeparti MP Marie Krarup made headlines around the world with derogatory comments describing the traditional Maori welcome she received at the Navy's Te Taua Marae during an official visit in March.
Last night (NZ time) Folkeparti vice-chairman and foreign affairs spokesman Soren Espersen said the party regretted Ms Krarup's comments.
"In the last few days Marie Krarup has been in the media in connection with a blog about the defence committee's trip to New Zealand," he said.
"In this connection it has attracted attention that it has seemed as if Marie Krarup has ridiculed New Zealand's official way of welcoming the defence committee.
"I want to emphasise that the members of the committee like all other guests must of course respect the hosting nation and its ways.
"Dansk Folkeparti therefore regrets Marie Krarup's blog and the unfortunate situation that it has caused. We note that Marie Krarup has said that she intended the blog as a satirical piece and did not intend to offend people in New Zealand."
The apology comes a day after Ms Krarup wrote on her Facebook page that critics could "forget about" her apologising for her "humorous blog post".
The original blog post was for Copenhagen newspaper Berlingske Tidende and said Ms Krarup was in New Zealand as part of a defence delegation, and was welcomed to the Navy's Te Taua Marae last month.
She described the ceremony as uncivilised and said she did not enjoy being welcomed by a "half-naked" man "shouting and screaming in Maori".
Since the blog post was translated by a Dane living in Auckland, Inger Mortensen, it has attracted strong criticism from Maori leaders and other Danes living in New Zealand.
Ms Mortensen was commissioned to translate the piece for an agency and through the Danish Society Committee, and said the apology was half-hearted.
"Well it's hardly an apology, I wouldn't call it that. It's not coming from her, it's just coming from the party saying we regret she wrote that."
Danish Folkeparti is a right-wing extremist party.
The Danish Embassy in Canberra, which has jurisdiction for New Zealand, is expected to release the apology today on behalf of Dansk Folkeparti.
Read more: Full text: Read Marie Krarup's translated column
* Read the Herald's live news blog here.