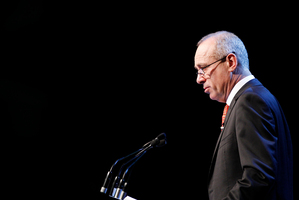 Former Fonterra chairman Sir Henry van der Heyden has called for an end to in-fighting among Waikato Tainui members while proposing a radical shake-up of its tribal governance structures.
Sir Henry spoke to a gathering at Turangawaewae Marae in Ngaruawahia yesterday at a hui-a-iwi (iwi meeting) called by the Maori King, Tuheitia, where he likened ongoing fighting between tribal members to bickering among farmers and top-heavy dairy co-operatives when he began as Fonterra's chairman in the early 2000s.
"With Fonterra there was lots of inwards-looking, political infighting, power plays and those sorts of things ... and it sort of feels a little bit like Waikato Tainui is today."
He believes Waikato Tainui, which has an asset base valued at more than $800 million and predicted to top $1 billion in the next five years, should bank its future on economic prosperity.
But he thought the iwi were hamstrung by a highly complex tribal governance structure and in-fighting between high-profile personalities that has seen resignations, sackings and expensive disputes between former colleagues ending up in court.
Now the chairman of Tainui Group Holdings (TGH), the iwi's commercial arm, Sir Henry proposed an overhaul that would see the tribal parliament, Te Kauhanganui, with more than 180 members, and Te Arataura, its tribal executive, both ditched.
TGH would remain with changes.
King Tuheitia's spokesman Tukoroirangi Morgan said the people were "a little shocked" at Sir Henry's candour but he believed change was imminent.
Rugby league great and successful businessman Tawera Nikau, who also spoke at the hui, later told the Herald the tribe's governance structures were probably dated and no longer relevant.