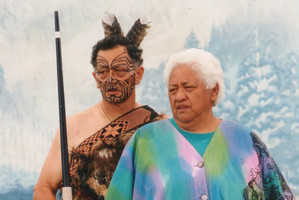 At 17 Bub Wehi fell in love with his future wife while working at a bus stop in Opotiki - she had the fastest walk he'd ever seen and although he didn't know it at the time, from that moment his own feet started moving towards a rhythm to last a lifetime.
Launched tomorrow Ka Mau Te Wehi is the story of Bub and Nen Wehi the famous husband and wife team who were leaders of two champion kapa haka groups Waihirere from Te Aitanga a Mahaki and Te Waka Huia, an Auckland urban based group.
In a nod to the pair's standing, more than 700 are expected at the concert event which will draw the heavyweights of the kapa haka out from their own practices just three weeks out from the nationals,Te Matatini.
The Wehi's accomplishments are formidable. Winners with Waihirere at the top competition twice in the 1970s, winners in 1986 with Waka Huia, then a first time entrant, the pair went on to set records over the next 25 years by always qualifying in the top six groups and winning the overall competition four times.
The book is an insight into how the pair composed over nearly six decades. Early in the book Bub tells it simply: "I find it interesting how opposites attract, yet we were complementary in every way: she was the melody, I was the words and together we were the song.''
Author Bradford Haami started the project after Nen died in 2011 at the age of 81. Her husband, 79 next week, has Parkinson's disease and is wheelchair bound so the pair's whanau were involved in the storytelling, sharing memories so that both of their parents voices were heard.
From Whakatohea and Tuhoe Bub fell in love with Muriel Pimia Te Ua, known as Nen, when he was a teenager working at Opotiki Road Services. She'd hopped off the bus from Gisborne. They'd meet at a church function not long after. Lovesick he followed her to Wellington and then turned up in Gisborne to search her out after she'd returned north after her mother's death.
Nen was the oldest grandchild of a chiefly line who'd been taken under the wings of her Te Ua uncles. Their strict attention meant by the time she met her future husband she was already a seasoned performer. He wasn't and until he met her he'd sworn off ever participating in that world at a young age after an early disappointment in not making a team.
Courting her meant there was little choice but to become a backrow member of Waihirere where novices learn, but he quickly moved up the ranks. He came under the eye of broadcaster Bill Kerekere and her uncles - intimidating men who watched like hawkes.
Together they were known for "raising the dust'' on social issues such as child abuse and used their artform to travel the world as cultural ambassadors.
The values they lived by - humility, love, hardwork, loyalty, pride in the things that make Maori, Maori, are the things that Mr Haami says define the Wehis.
"I told Bub `I don't want to write something about entertainment, it must be something more than that.' I asked him `What is kapa haka?' And his answer to me was `Kapa haka is about family.' It was the only way that Nen and him could teach good family values to the next generation as well as teaching them Maoritanga. That's what hooked me. ''
Their son Tapeta said he wished the project had happened while his mum was alive. Nevertheless, it shares his parents lifelong commitment to each other and their community.
Ka Mau te Wehi launch concert at 98 Beaumont Street Victory Convention Centre, Sunday 6pm
Tickets $25 at the door