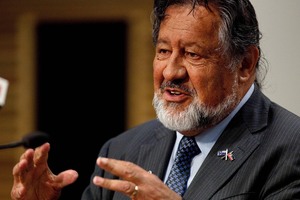 Nothing is more damaging to a political party than inner turmoil.
Voters detest it and invariably deliver their verdict at the first possible opportunity. This makes it all the more surprising that the Maori Party has chosen to postpone a decision on its leadership until some undetermined time "in the next few months".
That period will serve only to make the party's current instability even more apparent and allow the fomenting of mischief by those keen to seize on its vulnerability.
The leadership problem came to the fore just before Christmas when Tariana Turia called on her fellow co-leader Pita Sharples to hand the reins to MP Te Ururoa Flavell, despite Dr Sharples' plans to stand again in 2014. This seemed good advice. Both Dr Sharples, 71, and Mrs Turia, 68, had originally intended to retire in 2011 but changed their minds to see through new policy initiatives such as Whanau Ora, and to maintain party stability after Hone Harawira left to start the Mana Party.
Mrs Turia has decided not to stand again next year, believing the party and Whanau Ora are strong enough to survive the change to new leadership. Dr Sharples, however, is throwing doubt into the first part of that equation by equivocating over his future.
He says that he wants to assess the "vibe" from the party's supporters. There is little need for that. The party should address its succession as soon as possible, and this is the time for the 57-year-old Mr Flavell to step up.
Every party needs to rejuvenate itself from time to time; the leadership plays a key part in that process. Mr Flavell is the natural successor. His impressive stewardship of a bill on pokie machines indicates that, especially if he is given an adequate settling-in period, he will be an effective pair of hands.
The leadership is not, of course, a simple matter of anointing the Waiariki MP. There is the issue of whether the male and female co-leadership will be retained. In many ways this is an admirable set-up, but it can also be problematic for small parties. In this case, however, there seems a readymade answer in the form of Rahui Katene, who lost Te Tai Tonga at the last election. She could also slot into Mrs Turia's Te Tai Hauauru seat. Likewise, there seems no reason why Dr Sharples should not retain his ministerial posts even if he vacates the co-leadership.
The case for some urgency has been strengthened by the posturing of Mr Harawira. His attempt to make what amounts to a reverse takeover of the Maori Party will come to nothing.
The bitterness that led to his departure from the party three years ago still burns. There is also absolutely no common ground between his uncompromising protest-group style of politics and the Maori Party's policy of being an independent voice inside the door of government. Mr Harawira's rhetoric enabled the Mana Party to snare about a third of the Maori Party's votes at the last election, when the latter was reduced to just three MPs. If he can further destabilise the Maori Party, he will reckon that he can increase that vote.
Almost nine years have passed since the euphoria and excitement that greeted the Maori Party's victory in a Te Tai Hauauru byelection. Unlike several previous attempts, it has not only survived but thrived as an independent Maori political force. Much of this success can be attributed to the strong leadership of Mrs Turia and Dr Sharples. Now that strength must be matched by an astuteness in recognising when their time is up.