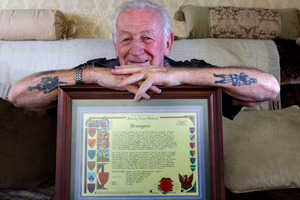 Alex Edge used to be Maori.
She ticked the Maori box on her census forms, enrolled at Victoria University as a Maori student and, when she needed a dissertation subject for her honours degree, she chose her iwi, Ngati Whatua.
Her culture was a point of pride.
Then in June last year her mother emerged from their garage, looking strangely pale.
She had been rummaging through some old boxes and had uncovered her parents' marriage certificate.
Her initial joy at the discovery was replaced by a slightly sick feeling as she read and reread the information it carried.
The date made no sense. It meant she had been born 18 months before her parents' happy day and that didn't tally with what she'd always known.
Off she went to get her birth certificate. "And all hell broke loose," says her daughter.
The man it named was not Edge's grandfather, the man she traced her Maori ancestry through. This man was a total stranger.
The phone line ran hot as her mother demanded answers.
"At that stage she was still more confused than angry," says Edge, "then she found out that most of the family had always known ... poor Mum. They'd been keeping it secret for so long I guess they couldn't tell tell her. Or they might have assumed she'd always known and so never spoken about it. Anyway, she hasn't spoken to some of them for six months.
"It's been bizarre really. I mean now I can see that Mum and her sisters don't really look the same, it's just that I'd never noticed it before."
Understandably Edge is keen to find her real grandfather, if only to know which box she should be ticking in the next census.
Is she Maori at all? No one's saying, and her ethnicity is a delicate issue, given the preference within her department that those studying Maori history be Maori.
The problem is that her need for the truth is being stymied by her mother's desire to forget the whole episode, a view the 22-year-old wants to respect and the reason we have not named her mother. She wants time to get used to the shock.
Still, it's impossible for Edge to ignore that nagging suspicion that her biological grandfather is out there somewhere. Along with a new set of biological relatives and family stories.
Which tells us something about identity. It matters. Especially when it's lost.
Everyone should know where and who they come from, it's just that once you start rattling around in the branches of your own particular tree, you never know what might be shaken loose.
Which is what makes the process so fascinating and popular. Many of us know next to nothing of who we descend from, probably because reminiscing was often not a priority for immigrants, starting from scratch and trying to set up a new life for their family.
Yet every one of us is part of a line that was already old when the wheel was invented, even if for many Pakeha New Zealanders our knowledge of that lineage often hits a brick wall at our great-grandparents.
Digging further can be hard enough without having to contend with the deceptions like that within Alex Edge's family.
Just ask Ron Hales.
He'd always been told his father died during World War II. While the story might explain why his mother had to place him with a foster family, he struggled to understand why his mother's mother had the same surname as he did.
Not that it bothered him. After all, Hales boasted three families: the foster parents he still calls Mum and Dad; his birth mother and her new husband; and his mates in the Royal New Zealand Air Force.
Three eventually became four when he married and started one of his own.
And all was well until the early 80s, when his sons returned from a weekend at their aunt's.
She had given them an envelope containing a 10-year-old death notice and a note: "Dear Ron, this is your grandfather's death notice and the first name listed underneath is your father."
"Christ ..." was all Hales could say.
"Then I counted all the names. Nineteen, and all I could think was that I had 19 aunts and uncles I had never heard of, all Irish Catholics ... I'm not Catholic, but never knew I was Irish."
Only then did he focus on the first name, Leo Dromgool, his dad, and the date: 1972.
This supposedly dead man had been alive and kicking at least until then, so off he went to his mother for confirmation. "That's all I've ever got, a begrudging 'yes'. She's closed the whole thing off - call it selective memory loss - she just doesn't want to know, not even now ..."
With no idea what to do next, Hales filed the clipping away and forgot about it until 2005, when he and his second wife, Margaret, visited friends in Rotorua.
As the wine flowed it emerged that Margaret Hales was the only one there raised by biological parents.
"The rest of us were bastards, you might say," says Hales, "and the other two had found their real parents and mainly had good experiences. So I thought 'stuff it, let's see if there's anybody out there'."
Without proof he didn't want to risk cold-calling potential relatives, he needed to get his story straight first.
The death notice pointed him to Tuakau Cemetery, where he found several generations of Dromgool going back to late 1800s and the nearby Dromgool Rd.
Being famous in Franklin was great but he knew he needed help. People usually trace their families back in time, Hales was trying to move forward.
So, the couple signed up at the nearest branch of the New Zealand Genealogy Society and commenced 18 months of poring through 100 years of microfiche records and electoral rolls.
It was an endurance test fuelled by intermittent pearls of knowledge, which he carefully logged in a diary. For example, both Hales' great-grandfather and grandfather had two batches of children with two different women and in both cases the second wife was their former housekeeper.
Grandfather Thomas Dromgool had 20 children, including Leo and 14 girls. The number of girls was a problem as they presumably changed their surname when they married and moved away. So, once they'd found each birth date, they had to guess when they may have begun marrying and then gone through the records for that period to see if they popped up again.
"It turned into year-by-year slog," says Hales, "a long, laborious process."
Still, he was hooked. Even after learning that his dad had died in 1975, in Parnell, a short drive away from where he'd been living in West Auckland.
He eventually listed four Auckland-based uncles and aunts to contact. All that was stopping him was the thought that they might be 20 years older than he was.
"Then I had a stroke of luck, well, that's the wrong word but one of my aunties died and the death notice listed her children, my cousins. I don't know why, but calling a cousin just felt easier."
Easier, except the notice listed seven girls and one boy. "It was back to the drawing board."
Then on September 27, 2006 - his diary lists everything - Hales found himself with a number and the phone in his hand.
"Are you going to ring or not?" asked his wife, "because if you don't then we've just wasted 18 months." Sure, but he was anxious because his wife had tracked down an unknown great-aunt, only to be told to stay away.
A woman answered his call and he found himself blurting: "Hi Fran, I think we're cousins ..."
His worries were dissolved by a shriek of delight and a meeting was organised.
"It was really emotional, all big hugs and 'welcome to the family'. No ifs, buts or maybes, it was 'you're my cousin and there's so many people you have to meet'."
His father's brother greeted him with a "what took you so long?" and "you're the spitting image of my father ..."
He heard how Leo Dromgool joked about expecting a knock on the door, followed by a punch in the face, especially after he'd been issued with a maintenance order.
Maintenance order? Hales' ears pricked up; that order should still exist.
And lo, a few weeks later it was in his hand. His name wasn't there, but it featured his father, his mother and his birth date. This was finally the proof he was after. "It was certainty, you know? That's all I've really wanted and, on top of everything else that's happened, that felt fantastic, every second of digging had been worthwhile."
Suddenly the boy with no dad has a family line that's been traced back to the 1500s. Which is a discovery that takes some getting used to, says Wayne Hart.
After kicking off a search to see if his heart condition was inherited he discovered that his working class family descends from what an 1893 English publication described as "an ancient family with noble connections".
And they were rich with it.
"It wasn't anything I'd ever been interested in, it was my doctor who suggested having a look, but the more I looked, the more I became consumed by it. I'd send off an email asking for information then be up at 5am to see if I'd got a reply."
With some help from the genealogy society, Hart tracked his father's side back to England, via a great-grandfather, and discovered William Cheney Hart, Lord of the Manor of Hope Bowlder.
Having grown up in rough-as-guts Grey Lynn, then discovering a family boasting a relative who seemingly died after getting boozed and being run over by his own horse and cart, this was fantasy stuff. He had to see it all for himself.
"That had a really emotional effect. Standing on the same step my direct ancestor had stood on during the 1700s ... that's something, and I remember thinking that was as good as it was going to get."
But a search of the Mormon Church's genealogy records connected him with William's father, Cheney Hart, a linen merchant and high-ranking member of the dissident Unitarian Church.
Dropping Cheney Hart's name at a Shrewsbury library led to the discovery that a university thesis was being written on him. It seems old Cheney was a prime mover of the day, who not only co-founded the local infirmary but conducted pioneering research into electric shock treatment.
Just as Hart was absorbing all this, he was ushered to the basement and was handed letters his ancestor had written to a son studying at Oxford University during the 1750s. They contained the usual dad stuff, "stop the drinking, stop the shagging, and start the studying", along with a recommendation to run for student office using their prestigious name and some potentially treasonous support for the American colonies in their dispute with Britain.
"Now that really knocked me. I mean it blew my socks off, this is his handwriting and right there, that's his signature ... and I'm holding it. Amazing."
Apparently the records had been stored because of a long-running legal dispute. The court needed to be able to find his relatives if he won, which seems to be why Cheney became the family's middle name for several generations.
There must have been a fair sum involved, as the family had a string of estates and a pub - part of which is now an historic landmark on the main street of Warrington - but Hart is unaware of what happened.
"I can't help thinking, Christ, what happened to our branch of the family? Why didn't the money flow through to us? ... but when you travel that far and see where they're buried and read their letters, that brings it's own reward. It really changes your perspective. I'm like 'wow'. It doesn't change who I am, but from starting off with no idea what I'd find, I do feel part of something bigger."
So, aside from trying to spread the tree from the English Civil War to the Normans, Hart's biggest challenge is to ensure the knowledge and traditions he has collected are never lost again.
"The thing is that so far it's all come fairly easily - we've even started digging into my wife's family - but if I'd struck problems early on I probably would have given up and everything would have remained lost to us. So now, once again, I have no idea what there is yet to be found. It could be bigger still. It really has become totally engrossing and worth every effort." Which is a fine thing to say in hindsight.
As far as Alex Edge is concerned, following a similar path will have to wait until everyone has calmed down. She might have a new family waiting to be found, but her current one has been chopped in half and that wound must be repaired first.
"I'm still glad it's happened. Especially as a lot of family members actually knew about the secret before we did, so I think it's a good thing we found out. But to be honest, it doesn't change my memories of who I thought my grandfather was and who my family are. So, I guess it only changes things as much as I want them to. While I do want to find out where we come from one day, at the moment it's still too fresh."