Yvonne Tahana, Maori affairs reporter, talks to David Taipari, the Super City's Independent Maori Statutory Board, about his motivations and his progress so far.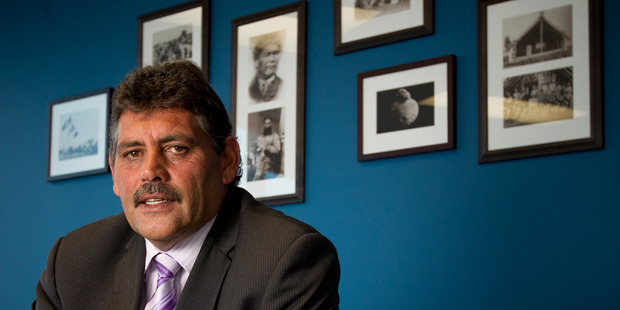 Gold and a beloved grandfather glimmer in David Taipari's memories. Both of them are anchored to Thames, which might seem an unlikely home for the chairman of the Super City's Independent Maori Statutory Board. However the fortunes of the Coromandel town, the Taiparis and Auckland were once wound tight.
The 48-year-old is the eldest moko (grandchild) in his whanau. When he was young that meant he spent much of his time with his paternal grandfather, Walter, who'd done well in life through farming and commercial fishing but was the type of man who liked people and ran a cab around town: "He spent most of his time driving everyone around Thames. He didn't need to do it he just loved to see all the old fullas and chat."
The younger Taipari became an extra shadow for the man who came from a line of Ngati Maru chiefs.
"He used to take me everywhere. He used to say a lot of things to me as we travelled around, that meant nothing at the time.
"[But] you never get confused with your grandfather, you just say 'yes' really."
The close relationship and the passing on of pieces of tribal history is something he treasures.
Taipari absorbed stories which took him back a century to when the pair's direct tupuna Wirope and his father Te Hotereni were key figures in the 1867 opening of the goldfield on their lands. Initially, Maori did well out of the arrangement receiving rental dividends as well as a fee from miners.
Alluvial gold in the region provided 80 per cent of Auckland's exports in 1871. The Herald at the time and the Waitangi Tribunal credit the gold rush for pulling Auckland's stagnant economy - commercial activity was low and unemployment high - out of its stupor.
The city's newest Maori political leader, who many in Tamaki had never heard of until he won the top job, is blunt about his iwi's contribution to development.
"It was a mining town that basically saved Auckland from its depression. I'm very proud of it, who wouldn't be?"
Ngati Maru's traditional rohe (territory) extends through Auckland, Coromandel and down to Tauranga and that's how Taipari qualifies for board membership.
He's a leader who's generally kept a pretty low media profile over the first two years as the board and council have figured out how they are supposed to work together. It's a unique legislative relationship created specifically for the Super City.
It exists because Maori seats, which had been recommended by the Royal Commission, were dumped in the final wash-up. That precipitated a massive protest hikoi up Queen St and criticism from Maori that the board was an inferior replacement.
Its purpose is to develop a schedule of significant issues, advise the council and work with it to design documents and processes to implement the governing body's statutory responsibilities towards Maori. It works like this: the board has spots reserved for seven mana whenua or iwi representatives and two matawaka or urban Maori. They are not elected by wider ratepayers, Maori or otherwise. Instead, a selection panel made up of 19 people, each representing one of the iwi with interests in the region pick the representatives.
Right from the beginning it's had run-ins with the council that funds it. The board asked for $295 million, or 3 per cent of the council's total budget (by the board's maths) to advance Maori interests.
That figure was negotiated down to $31.8 million for the 10-year Long-term Plan period 2012-2022, but not before papers asking the High Court to sort the matter out were lodged.
Unelected board members sitting as full voting members on council committees has also caused controversy and rumblings came again from some councillors when the board produced its 30-year blueprint for Maori development.
It set out 49 cultural, social, economic and environmental goals - one is for compulsory Te Reo in all schools - but Independent councillor Cameron Brewer criticised it as a wish list the council couldn't afford.
Most recently, the mayor had to plead with councillors to recast a vote on a decision which would have stopped the board from participation in next year's budget.
Against all this it's been difficult to tie Taipari down for an interview.
Part of his reticence may have been to do with an earlier media run-in this year when the board's Treaty of Waitangi audit, which rated how the council was measuring up to its legislative obligations, (not that well) was leaked to the Herald.
Maori organisations are notorious for their media control issues. The document was the first significant piece of public work to give Aucklanders a sense of what it was about.
When I went to talk to him about it, it was one of those testy occasions where reporters can almost see steam coming out of newsmaker's ears. A communications manager sat through the meeting, taking notes.
So, there's fire in his belly but he is generally a friendly guy. He brings the incident up and jokes that though his grandfather taught him to be respectful in dealings, there were other Taiparis who were far less diplomatic.
He says he makes a point of building consensus on board decisions to avoid dissension.
Mayor Len Brown backs him as a man who keeps a cool head in challenging environments.
Married to Debbie, he has two grown daughters and a 2-year-old moko of his own.
There is an eclectic work history. After school at Thames High School he worked as a spraypainter at the now defunct Toyota factory there, rising quickly to managing 60 workers; he has worked in the bush running teams of people doing pest control and dipped across to Perth to spraypaint luxury yachts in the 1980s.
He came home quickly and in the 1990s became his iwi's general manager, an experience which raised his profile locally and taught him how iwi could deal with local government on the front foot.
He has been deeply involved in the Hauraki claims process which is winding up.
Taipari is actually more fun to interview when he's in a fighting mood. He says he's had nothing but support from the wider community in relation to the board's work. Really?
"I'd like to think all New Zealanders are [supportive] - wouldn't you like to think that?"
"It [opposition] could be called ignorance couldn't it? I mean, if you don't have the full information and facts and you've made the decision, what are you making it on? Assumption. I'd like to talk to those people. Do they exist? Because I've had nothing but support you know."
Ask him about the selection path to the board's top job and you'll take a circular trip through number crunching. "It's a pretty sort of robust process I don't mind telling ya. I went through seven elections to become chairman whereas those guys [councillors] only go through one."
At this point he says tens of thousands voted for him. Where is the evidence of that? "Within the tribe, you can talk to them."
He clarifies that though those iwi members didn't all turn up to an election hui, one person could represent hundreds. He himself represented 400 of his own whanau. "When you put it all together, there are thousands." Finally, he says it's up to the 19 people on the selection panel to do the choosing.

Councillor Mike Lee, former chairman of the Auckland Regional Council, wants the board scrapped during the next Government's term and Maori council seats legislated. Fundamentally, it's the fact that the great majority of Maori ratepayers have no say in the board's make-up that irritates him.
"I think it will have to be replaced with elected people, same as us ordinary joes. Go out there, hand out leaflets at the supermarket until the supermarket manager gets tired of you and kicks you out. Go out there and scrabble for those votes."
Separately, he says he's an admirer of Taipari who he's come to know and respect through shared council committee work.
"I admire his leadership, he leads from the front. A rugby writer would say he carted the ball up tirelessly. He's a tough guy who comes with his own integrity. He hasn't been to a Swiss girls' finishing school. He speaks his mind forcefully and courageously. I respect that in him."
For his part Taipari is clear that the board, through its work programme, will make a significant contribution to the region. The end is to see living standards raised for Maori and all New Zealanders.
He believes the body has an ally in the mayor, although the board will be looking closely at what risk factors may affect it come next year's local government election.
Brown says there's been an excellent relationship over the past two years between Taipari and himself. Board members are also making significant contributions at committee stages. Both are acutely aware of the historical nature of two new organisations figuring out how they are supposed to work together.
"It's hugely challenging. You're going to have teething problems because there's no manual."
He won't be drawn on whether the franchise for the Maori board should be extended, saying the board needs time to settle and any thought of change should be left until the council's second term. "I think Maori are pretty pleased with what they've got and pretty pleased with their performance. They ought to be."
In the former spray-painter's office is a picture of his great great grandfather, Wirope, named for British naval officer Willoughby Shortland who was instrumental in getting Ngati Maru to sign the treaty.
He's proud of that link to the country's birth.
"I'm a patriotic Maori boy."
Gold was good for both Maori and Pakeha 150 years ago but in short order the Waitangi Tribunal's Hauraki report details how arrangements weren't honoured between the iwi and the Auckland Provincial Government. Today the iwi controls only 2.6 per cent of its former lands.
Wirope's part of Ngati Maru history was about providing opportunities. Taipari says his job has been to work to see assets returned - Hauraki is on the brink of that occurring.
The board fits within a wider passion for Maori development.
"My grandfather is the one who set me on this path. He didn't tell me where it ends but I'm committed [to it] for the rest of my life."

David Taipari
Age: 48
Married to Debbie, two daughters, one moko
Ngati Maru