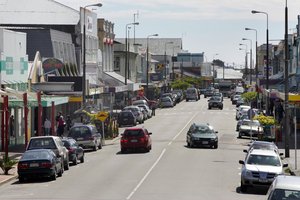 A play about Maori leasehold land in Greymouth has revived an idea to rename the town 'Mawhera' as a symbolic gesture toward racial harmony.
The Cave Above the Pa, written and directed by Blackball playwright Paul Maunder, played at the Regent Theatre over three nights. It explored the issue of leasehold land and its impact on Maori-Pakeha relations.
Mr Maunder's Kiwi Possum Productions based the play around the controversy of the Grey Main School memorial gates, removed without warning by the Mawhera Incorporation, and an imaginary conversation which could have taken place when Greymouth residents went to recover them from the Arahura Valley.
Mr Maunder said there was a "relative invisibility" of Maori and Maori culture on the West Coast that needed to be addressed.
"The Maori-Pakeha relations need to be healed, need to be worked through ... for people to feel comfortable," he said.
Each night, the performance was followed by a discussion with the audience, led by Mayor Tony Kokshoorn, West Coast-Tasman MP Damien O'Connor and psychologist Clare Pierson on the question of what is to be done for the Greymouth town centre.
An idea, supported by a largely middle class Pakeha audience on Thursday and Friday, was changing the name of Greymouth to include the word Mawhera.
Ngati Waewae Runanga chairman Francois Tumahai said a name change was not something local iwi had pushed for, but it would be a good idea.
"We call it Mawhera everywhere we go - we don't call it Greymouth. It would be a great move forward. We've never spoken about it, but I'm sure a lot of people would be quite happy with that."
Grey District Mayor Tony Kokshoorn said that while changing the name was an interesting argument, "we've been there and I'm not going back to it".
Five or six years ago, he suggested changing the name of the district and was met with widespread opposition from the public. One suggestion was 'Crescent City' for Greymouth.
As for the latest suggestion of 'Greymouth Mawhera', sharing two names would only confuse things, he said.
"You've got to see your town as a particular name one way or another."
People had periodically suggested renaming the town Mawhera as far back as 1891 and it had never gone anywhere, he said.