Iwi leaders from wider Tainui alliance boycott water meeting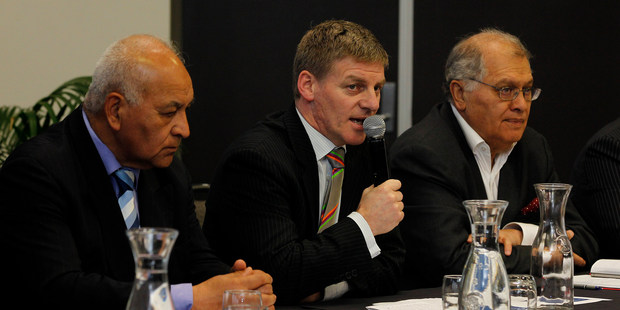 More empty chairs than people filled the Government's first "shares plus" consultation hui in Hamilton last night.
Two female anti-asset-sales protesters, their children and about 10 people attended. However, not one iwi leader from the wider Tainui alliance turned up - a boycott, on a day that also had the Prime Minister joking that Maori unity on water did not exist.
"There are more positions than Lady Gaga's outfits," he said.
Shares plus was mooted by the Waitangi Tribunal as a way for the Crown to settle Maori claims to water rights, but the Government has said it won't work.
Regardless, Deputy Prime Minister Bill English has been given the job of consulting on the concept - and he he was happy with yesterday's hui.
"If the iwi don't want to be consulted on this issue in this way, well, then that's up to them, because the obligation is on us ... iwi aren't obliged to show up."
Maori Party co-leader Tariana Turia said it was up to iwi whether they attended the hui but she believed the Government's position meant it was not true consultation.
"I think it's inappropriate to go out with a predetermined situation rather than going out and actually consulting with iwi."
Mrs Turia said the Waitangi Tribunal had recommended the Government go out and consult "and I guess they're trying to be able to tick that box so that if a court case does come up they can say that they did go out".
But Treaty Negotiations Minister Chris Finlayson said forthcoming hui around the country were not cynical exercises in box-ticking.
"I think it's important to look genuinely at what the tribunal says. That's what courts have told us for 25 years we have to do."
Labour leader David Shearer said: "It's pointless. Why start a hui or go into any discussion where you've already said 'there is no point in having this discussion because I don't agree with what we're putting on the table'."
A few Ngati Maniapoto representatives turned up to the hui.
Maniapoto have their own hui next week. However Dan Te Kanawa, who is a trust board member, said he was surprised by the strong reaction the Government hui had generated.
But he said that shouldn't be read as a fracturing of the confederation on the issue.
His reason for going was simple - he didn't understand the issue.
"We have to be conversant with all the issues that are likely to affect us ... to be ignorant of things that are bad for you is really dangerous."
Although his tribe was a part of the Kingitanga and Tainui confederation, he would not be telling Maniapoto whether to attend their hui or not.
Shares Plus hui
No shows
Waikato-Tainui, Ngati Haua and Ngati Koroki-Kahukura, Te Kawerau a Maki, Te Runanga o Ngati Mahuta, Te Runanga o Ngati Mahanga, Te Maru o Rereahu Trust did not attend.
Who did attend?
* Peter Mariu - Pouakani.
* Two anti-asset sales protesters, their tamariki and two tables of government officials.
* A few Ngati Maniapoto representatives.
* Media allowed to record only Bill English's presentation.