Maori Council members claim Te Puni Kokiri acting illegally on salaries and expenses.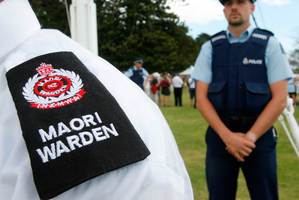 A tug of war has broken out over which organisation controls Maori wardens.
Maori Council members Rahui Katene and Des Ratima say Te Puni Kokiri, the Maori Development ministry, is acting "illegally" by controlling the wardens. They say it is a statutory job that belongs to the council. The pair allege taxpayer money ear-marked for the wardens has been used by the ministry to pay for Te Puni Kokiri salaries, expenses and accommodation.
The Budget set aside $1.178 million for wardens.
The Maori Community Development Act specifies that the Maori Council has the power to appoint or warrant wardens. However, Mr Ratima said the council's role was wider. It had "exclusive power and authority to control and supervise" the wardens, he said.
The situation is complicated by the uncertain status of the Maori Wardens Association. Te Puni Kokiri reportedly froze funding to the association because of a failure to supply annual accounts earlier this year.
Rawiri Nathan, spokesman for the wardens' Interim Executive Council, said wardens around the country would be confused by the move as the council had been "dysfunctional" for a long time and had not looked after wardens.
"From what I can see ... it all comes down to the money. It can be seen as going in there for the wrong reasons."
"At the end of the day it's tikanga that calls us back to this work we do, not necessarily the act. It's aroha [love] for the people that gets us up at 5 o'clock in the morning to make sure kuia cross the road safely at Koroneihana [Coronation cele-brations] or our tikanga is upheld at Waitangi."
Te Puni Kokiri communications manager Paula Collins said the ministry, which administers a development project supporting 800 wardens, rejected the claim it was illegally supporting the wardens.
"Contrary to Mr Ratima's claim, none of the funding involved in running the project is required to be channelled through the New Zealand Maori Council."
Maori Affairs Minister Pita Sharples would not comment while a review of the act is under way.
Who are the Maori Wardens?
Unpaid volunteers. Prominent at large hui or annual gatherings. They also do youth work and work closely with police. An older membership.
When were they set up?
In 1962, by the Maori Community Development Act. The act has been called "archaic" by wardens. For example, it gives them the power - which they don't use - to order Maori to leave a hotel if any Maori appears intoxicated. A Maori Affairs select committee report in 2010 said there were concerns over a lack of support from the Maori Council to wardens. It also recommended a new independent body be established to govern the wardens and a re-evaluation of the council's role.
What is happening with the report?
The Government is consulting the wardens and the council.