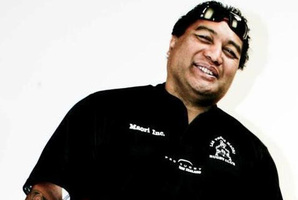 Las Vegas has a slice of everything, but a marae?
Well, if Kiwi expat Dane Ngahuka's plans come together, a dusty 2ha ranch in a Vegas suburb called Paradise will soon host the first marae on the American continent.
"It's all about our people, so why not? Everybody else has their marae here - Jews, Middle Easterners," Ngahuka told the Herald on Sunday.
Tauranga-born Ngahuka, a Grammy-nominated musician and sound engineer, moved to Las Vegas 11 years ago. He'd worked with some of American music's biggest names. He is also president and coach of the Las Vegas Maori rugby club.
Ngahuka loved America, but said something special was missing. "I miss the marae, man. All the singing, the korero Maori... I miss all of that."
About 20 Maori families lived in Vegas, with more in nearby states and cities. Ngahuka said Las Vegas was a hub for Kiwi expats. "As I'm living here and working, I'm beginning to see the influx of more Maori, more Kiwi."
Ngahuka explained how he'd kept in touch with his roots. "I can korero Maori over here and there. And I talk to myself once a while," he joked.
A website, maoriinc.com, was looking for donors to raise about US$2m for the project.
Ngahuka, of Ngati Ranginui and Ngati Kahungunu ancestry, said the American ranch owner was a fan of the marae plans. "We're in negotiations with the owner right now. It's looking good. He's in no hurry but he wants to work with us because he likes the idea of what we're doing with it."
Ngahuka hoped to start construction next year. The marae could be finished by 2014.
Ngahuka also wanted his slice of Paradise to boost rugby in the USA. "It's going to give us a marae for our protocols and the rugby club for all the social networking and economic development."
The marae would probably have a traditional design, with the neon and tack left out, although Vegas showgirls would be as welcome as anyone else to visit.
"Vegas has become more a cultural city. There's always the strip and the city and the vacationers, but it's a family-oriented town, believe it or not."
Ngahuka had even more ambitions for Maori in the USA. "In the future we'll have our own newspaper and magazine and television show. Some reality show maybe."