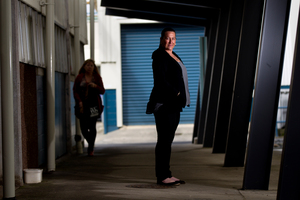 The Government's flagship welfare policy for Maori, Whanau Ora - worth $40 million this year - is designed to lift families out of poverty and dysfunction, but it has been criticised as a waste of money and an opportunity for some to rort the system. In a four-part investigation reporter Yvonne Tahana speaks to those at Whanau Ora's frontline.
Keen to make sure young mums don't slip into long-term benefit dependency, social worker Kylie Urwin head-hunted teenage mothers in a South Auckland carpark.
A mother herself at 18, the Manukau Urban Maori Authority social worker is in charge of a $100,000 Te Puni Kokiri (Ministry of Maori Development) contract. It is not funded by Whanau Ora but Ms Urwin has applied the principles to her work - that families need to be helped, not just individuals.
Ms Urwin went looking for young people and told them they couldn't stay on the benefit forever.
She warned them that changes to the domestic purposes benefit, where cash would be replaced with a card to pay for basic needs, should be spurring them to take positive steps towards a self-sufficient future.
She steered them towards a foundation course at Manukau Institute of Technology and plans are under way to enrol them in full-time trades courses from February.
She attends class with them, offers budgeting and parenting advice and works with their families to address educational goals. The 36-year-old knew she wouldn't find those most in need of help in schools.
"I went out and hit the streets. I went to the big carpark in Clendon at the shopping centre - I identified the body language of our young mums and dads to know the age category and basically offered help."
One participant Kayla Morgan, 18, has a 14-month-old son. The teenager is completing a course which will lead her into a nursing degree. She enjoyed school but returning to it wasn't an option with an infant, and the extra support from Ms Urwin, she said, had made the transition to tertiary study easier.
AUCKLAND
* A quarter of all Maori, or 170,800, live in Auckland, according to a Statistics New Zealand 2011 estimate.
* Maori who live in the region are better off than those who live elsewhere, the 2006 Census shows.
* For Maori aged 15 years and over, the median income in the region is $24,600 compared with $20,900 for all Maori in New Zealand.
WHAT IS WHANAU ORA?
Whanau Ora (Well Families) is a Government welfare policy initiated by the Maori Party. It is open for everyone but its focus is on Maori families.
HOW IT WORKS
Social agencies work with whanau to help identify and improve problem issues such as poor housing, health, education and legal problems. They also ask the family to plan a future which moves them from state dependency to become financially independent and healthy participants in their community.
It is funded in two parts:
* $33.2m this year for agencies to form consortiums to work together with whanau to improve all elements of their wellbeing.
* $6.4m this year directly for whanau to form their own plans to improve their wellbeing.
THE SERIES
We have travelled to four of the areas where the services are most in demand.
Monday: Tai Tokerau (Northland)
* Urgent review follows abuse of scheme
* Disabled uncle has new hope after 14 years on benefit
Doors open to decent housing and a better lifestyle
* More cash the key to better lives, says CEO
Today: Waikato-Tainui
* Dream of life in Oz unites family
* Children put first with help of family plan
* Engagement and support replace expulsion at school
* Tainui seeks investors to help build $20m centre
Today: Te Arawa (Rotorua)
Thursday: Tamaki Makaurau (Auckland)
NEED MORE INFO?
Email: Whanau Ora
Visit: Te Puni Kokiri