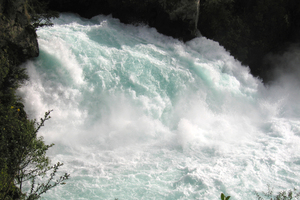 The debate around Maori rights and interests over water has been clouded by the notion of ownership and by a widely held "misunderstanding'' over what the Government's partial asset sale plan means for water rights, Crown counsel Kieran Raftery has told the Waitangi Tribunal.
The Crown began its closing submissions this morning on the final day of the tribunal's urgent hearing of a claim by the Maori Council that the partial sale of Mighty River shares later this year should be halted until Maori rights and interests over water are defined.
Mr Raftery said the Crown has never disputed that Maori have rights over water.
"The Crown's case is that whatever the nature of Maori rights and interests that interest remains the same if and when a partial sale of an SOE takes place. Those rights are not altered or reduced by that action.''
Mr Raftery said the Crown rejected the notion there was direct relationship between the sale of a stake in the companies and the erosion of Maori rights.
"The Crown's case is that those rights and interests in water can be compensated, redressed and recognised just as much after the sale as they can now.''
In his opening remarks this morning Mr Raftery said counsel for the claimants has put their case on the basis ownership of water was being sought.
The notion of ownership, he said, "has caused difficulty for us''.
"We need to get it out of the way.''
Mr Raftery said when witnesses came forward last week to talk about their claims, "they did not talk about ownership''.
He said most were talking about kaitiakitanga or custodianship of water that was particular to their area.
He also referred to the submission made on the first day of the hearing by Tony Wihapi of Te Arawa in which Mr Wihapi said his tribe, "accepted the right of the Crown to use our water for the good of the nation''.
"When it seeks to use that water 51 per cent for the nation and 49 per cent for others, we disagree.''
But Mr Raftery this morning told the tribunal, "in that comment there, therein lies the misunderstanding that may be shared by the wider community that think 49 per cent of the water resource is going to be given away for a price''.
"But as we know, what is being sold is not water, but a share, a minority shareholding in a company that generates electricity. That is a big and important distinction that needs to be appreciated beyond these four walls.''
The tribunal is expected to produce an interim report by the end of this month.