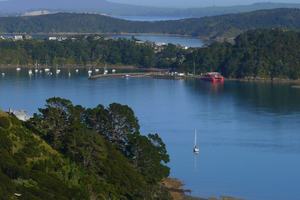 Work has stopped on a controversial coastal development on Waiheke Island after archaeological evidence of Maori occupation was found during earthworks at Wharetana, Putiki Bay.
At least four middens containing charcoal, shells and stone flakes were discovered on Saturday by a nearby resident, Carl Dalton, who claimed they had been knowingly excavated and covered with gravel.
Yesterday, Auckland Council chief executive Doug McKay said work had been suspended to allow an expert to investigate the archeological evidence.
The find has turned the spotlight on the council planning department, which once again has approved resource consent for a controversial project without giving the public a say.
Last month, Waiheke residents woke to bulldozers tearing into the coastal foreshore, described by Waiheke historian Paul Monin as one of the most important historical landscapes on the island.
The area was an important settler site from the 1830s to the 1850s, containing the oldest house on the island, a brick-lined well, remains of a wharf and a small cemetery, Mr Monin said.
Waitemata and Gulf councillor Mike Lee said the development effectively ignored coastal and foreshore protections and was another case of former Auckland City Council planners skewing the applicant's property rights ahead of the checks and balances of people and communities - both of which were part of the Resource Management Act.
Mr Lee said he found it disturbing that planner Martin Green - acting for the applicants Scott and Tatiana Holyoake - had apparently been working with council staff to "unbundle" a series of applications with minor effects instead of looking at the effect of the project as a whole.
The case was similar to the heritage cases of Turua St and Paget St, developments at Orakei Point and Beaumont St, which have attracted high levels of public criticism, he said.
"I think we need an inquiry into the planning department. The planners are meant to be the guardians, but it is now the case of who guards the guardians," Mr Lee said.
Mr McKay said he did not believe there was anything inherently wrong with the planning department. There would always be some controversial decisions around planners' judgments.
Waiheke Local Board chairwoman Faye Storer, who has 16 years experience with planning hearings, said the Wharetana development should have been publicly notified given its location in a protected coastal area. The issue, she said, had caused a lot of angst and anger among islanders, who turned out in their droves at Queen's Birthday weekend for a public meeting at Ostend Hall to discuss it.
Mr Green, who was involved in the Paget St controversy, said he could not comment on the Wharetana case without instructions from the Holyoakes.
They could not be reached for comment.