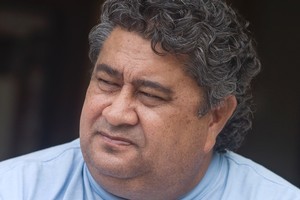 A Tuhoe delegation that met United Nations special rapporteur James Anaya last week says it assured him the iwi would not practise apartheid, should it regain ownership of Te Urewera National Park.
Tamati Kruger, one of the iwi's three Treaty of Waitangi negotiators and chairman of the Tuhoe Establishment Trust, said Professor Anaya requested the meeting.
A five-strong Tuhoe delegation spent 2-1/2 hours last Thursday with Prof Amaya at a Hamilton venue, arranged by Te Puni Kokiri.
Mr Kruger said Prof Anaya, the UN's special rapporteur on human rights and indigenous peoples, was keen to talk about the breakdown of treaty negotiations brought about by Prime Minister John Key's sudden decision in May that the Government could not live with a settlement handing ownership of the 212,000-hectare park back to Tuhoe.
Mr Kruger said Prof Anaya "delved into" the issue of mana motuhake - the concept of separate Maori identity and autonomy sought by Tuhoe.
"I took from his questions that he wanted to satisfy himself that this was not apartheid dressed up.
"He asked whether we were going to kick out all the non-Tuhoe people. He wanted to know whether this was evolving democratically, or whether it was racially motivated.
"We assured him it was not exclusive."
Prof Anaya asked about the "logic and workability" of Tuhoe achieving self-government within the remnants of its homeland.
On the park itself, Prof Anaya wanted to know whether Tuhoe would share it with other New Zealanders.
Mr Kruger said the delegation, which also comprised Tame Iti, Huka Williams, Patrick McGarvey and Kirsti Luke, assured him other New Zealanders would be welcomed.
Prof Amaya sought to understand why Tuhoe rejected joint management and co-governance mechanisms.
"He wanted to understand why those options were not palatable."
Mr Kruger said Prof Anaya was also interested in the detail of events related to the so-called terror raids of October 2007.
He asked about the warrant police used, the connection between the Government of the time and the police action, and whether the Government was involved in authorising the raids.
"He had heard and read about the terror raids and was seeking some certainty around facts.
"Not so much about dates and numbers but around charges and procedure...and around evidence being given in the courts."
He was interested in responses by the judiciary, the Crown and police.
- NZPA