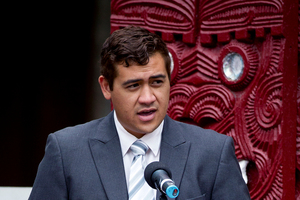 The Maori King's son says he will work towards unity among Maori and improving outcomes for youth but he remains concerned about his father's wellbeing.
Whatumoana Paki spoke at the annual Koroneihana celebrations at Turangawaewae marae in his first public engagement since assuming the role of Te Whirinaki a te Kingi after his father, King Tuheitia, withdrew from his public speaking duties in June because of ill-health.
The commemorations celebrate the Kingitanga movement and also mark the seventh anniversary of King Tuheitia's reign since the death of his mother, Dame Te Atairangikaahu, in 2006.
Mr Paki, who was flanked by Waikato Tainui heavyweight Tukoroirangi Morgan as he spoke, said he was humbled and encouraged by the support he had received since assuming his father's speaking responsibilities.
As he addressed a gathering of about 1500 people, Mr Paki said he shared his father's passion for rangatahi (youth).
He had also made it a focus of his to support efforts to raise Maori achievement and ensure they were empowered to be "the creators of their futures".
"Today's generation of leaders and the leaders of tomorrow are rangatahi, failure to recognise this could lead many young, talented and motivated rangatahi to pursue their hopes and dreams elsewhere," he said.
"If we want a lifelong plan we have to be in the business of growing leaders ... should we fail to do this the impact will be significant."
Mr Paki said there were still concerns about King Tuheitia's health and wellbeing but it was pleasing to know that he was responding well to his treatments.
"While absent from his duties, Dad is very much attuned to what is happening both here in Waikato and throughout the motu [nation]," he said.
Mr Morgan said it was not clear how long King Tuheitia would be unable to undertake his speaking duties but his son had performed admirably in his inaugural address.
The Koroneihana celebrations at Ngaruawahia end tomorrow.
In 1903, when Kingi Mahuta took up a seat in the Legislative Council in Wellington, his younger brother, Te Wherowhero Taawhiao, performed his Kingitanga duties.