Programme would raise $250,000 by charging access to Kingitanga functions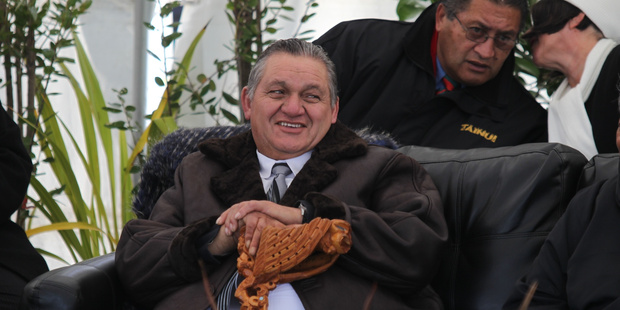 King Tuheitia's private secretary is considering raising $250,000 by providing corporate "access" to royal events.
In email correspondence seen by the Herald, Rangi Whakaruru discusses a plan to raise money for "projects" by charging for access to Kingitanga events for "hospitality, branding, community, awareness, relationships, knowledge and educational development".
Mr Whakaruru discusses the plan with Susan Cullen, who made a fortune in Maori education through contracts to Te Wananga o Aotearoa when her father was in charge of the institution.
The events in question include koroneihana commemorations, poukai where Kingitanga marae host the king for a day and regatta celebrations.
The programme is called the "Kingitanga Enabling Partnerships Approach [Kepa]" and in a discussion document Mrs Cullen sets out how corporates could be successfully targeted to raise $250,000 for the 2012-13 year.
The document says the value of the partnerships would need to be seen as mutually beneficial.
A board or committee would also need to be set up to take responsibility for the project.
The Waikato Raupatu Lands Trust contributes to those events already. Its annual report notes $4.359 million was granted for the Kingitanga, marae and other purposes. How much of the figure goes to the king's office is unclear.
Mrs Cullen told the Herald via email that no decisions had been made on whether the programme would go ahead.
Mr Whakaruru did not return Herald calls.
However, in other email correspondence between Mr Whakaruru and another close adviser to the king, Greg Miller, there is tension about accounting standards.
Mr Miller, who is Toll New Zealand's group general manager, says Mr Whakaruru has failed to provide 82 invoices over several months.
The situation means expenditure cuts are needed "to ensure the King is not short of funds?? [sic] now a priority I suggest".
"We can't let this go on this way ... any deviations reflect on us all by [sic] more importantly on the king and his office.
"Happy to help Rangi but we need the answers from you."
Mr Miller did not return calls.
The email trail
Email: from Susan Cullen to Rangi Whakaruru
"I thought I would propose a realistic target for the hui of $250k for 12-13. I think this is achievable and not look too big for people.
Ultimately I would like to see at least a mil of funding lined up in projects ... but maybe that is too ambitious ... I know you love ambition!"
Reply email from Mr Whakaruru
"This is great, the way to start is to make sure we get a solid pitch in terms of corporate relationships. The cost of relationships to these guys is alot [sic] about access not money. You will be fine"