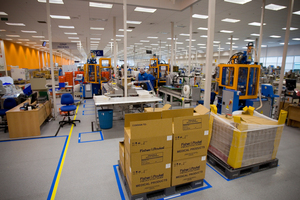 Changes introduced by a United States Government funding body will have a multimillion-dollar impact on medical technology manufacturer Fisher & Paykel Healthcare's revenue and margins, an analyst says.
The US Centres for Medicare and Medicaid Services (CMS), which oversees state-funded health insurance programmes for senior citizens and low income earners, began a competitive bidding programme early last year.
Under the scheme, healthcare product dealers approach the funding body with prices they are willing to charge for medical products, including those used in the treatment of obstructive sleep apnoea (OSA) manufactured by Auckland-based F&P Healthcare.
Mike Daniell, F&P Healthcare's chief executive, said competitive bidding resulted in a reduced number of dealers who charged lower prices in exchange for increased volumes.
"They've done the maths and decided they can be profitable ... at those prices," he said.
Macquarie analyst Stephen Ridgewell said in a research note that the first round of competitive bidding, beginning in January last year, resulted in a 27 per cent drop in dealers' reimbursement rates.
Equipment manufacturers, including F&P Healthcare, continued to insist that dealers would absorb the reductions in full, Ridgewell said.
However, he said dealers' low levels of profitability meant they would not be able to fully absorb the price reductions and would instead be forced to pass on some of the impact to manufacturers.
By the 2014 calendar year prices for sleep apnoea treatment equipment across the US would have declined 6.3 per cent as a result of competitive bidding, translating into a $6.4 million annual decline in revenue and earnings before interest and tax (ebit) for the New Zealand company, he estimated.
Ridgewell has forecast F&P Healthcare will earn a total revenue of $170 million for its sleep apnoea products in the US in 2014.
Daniell said the company did not intend to let competitive bidding have such a large impact on sales and earnings and viewed the changes as an opportunity to win favour with dealers and increase market share.
F&P Healthcare's OSA products were particularly user-friendly, he said, which meant dealers only had to spend a minimal amount of time training patients in their use.
The CMS also required dealers to prove patients were using the equipment for which funding had been provided.
Consequently, F&P Healthcare was introducing new technology that made it easy for dealers to collect data on patient usage, Daniell said.
For example, he said F&P's ICON sleep apnoea treatment machines enabled patients to upload usage data to their home computers, using a USB memory stick, at no cost to the dealer.
F&P Healthcare shares closed up 1c at $2.15 last night. The company, which has been facing headwinds as a result of the kiwi dollar's ongoing strength against the greenback, reports its full-year result next month.