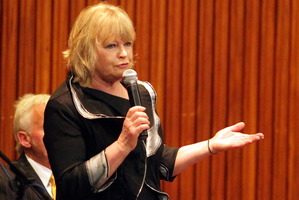 Annette Main pedals a cable car from her house across the Wanganui River every day to begin her journey to her job as Mayor of Wanganui. The little trip gives her an appreciation for the city she lives in, and exemplifies what she calls "living in paradise".
Main, 62, who defeated Michael Laws and Ray Stevens to win a second term as mayor, admits the past three years have been challenging.
The unexpected failure of the wastewater plant was difficult to overcome, but she is proud of her time in the role. Her husband John died unexpectedly in June but the personal loss she faced only increased her resolve to lead the community into a better future.
Main, who served on the Manawatu-Wanganui Regional council for 12 years before becoming mayor, said she hoped to sort the issue of the wastewater plant, further the progress of restoring Wanganui's reputation, continue the towns economic development and make sure the people of Wanganui were involved in the decision making process.
"I'm most proud of the restoration of our relationships with different sectors of the community, whether they are business relationships or social relationships or community relationships. I'm proud of people and organisations feeling like it's easier to work alongside the council."