Winter codes warned of repeat of soggy 2011 season as grounds deteriorate in drought.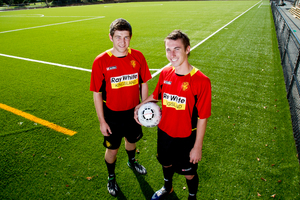 Winter sports codes are braced for the possibility of a repeat of Auckland's 2011 season where four out of 20 scheduled children's games were cancelled because fields had turned to mud.
Auckland Council sports parks manager Mark Bowater warned sports officials to be prepared to manage their way through a situation where hundreds of fields - now baked hard by weeks of drought - would disintegrate if a lot of rain came early in the season.
He said an exceptionally dry summer had left many fields with poor grass cover and the ground was too hard for seeding.
The council was buying extra irrigation equipment to moisten soil and aid grass growth on fields used for premier football before the onset of winter's rain.
"But we can't irrigate every field."
Mr Bowater said that since the outcry from players and parents about in 2011, the council was trying to "future proof" against cancellations and lack of alternative venues.
Work had started on an accelerated plan to upgrade fields and provide all-weather playing surfaces.
An example was the Michaels Ave Reserve in Ellerslie, where a $2.1 million field and warmup/training area of artificial turf would open next month, to be used by one of the region's biggest clubs, Ellerslie AFC.
The reserve featured in the Herald's list of worst-affected fields of the 2011 winter.
Auckland Football Federation chief executive David Parker said more than 20,000 club players would turn out for the season starting April on 6 and 7. Clubs were alert to the possibility of poor grounds causing cutbacks on playing time.
"We are conscious that every one - not just the premier teams - gets a fair share of game time. Training will get hit before games if we only get two hours a week on a field."
Mr Parker said it was ironic the council's efforts to improve field drainage had in drought conditions meant big cracks in fields and physical danger of poor surfaces.
"But football is growing strongly, clubs are under pressure and we support the long-term development plan," he said.
Mr Bowater said an extensively researched sports field capacity development programme was introduced to meet at least 80 per cent of demand in all areas by 2022.
The council boosted sports field capital spending by $85 million over 10 years to provide for 37 artificial fields out of the 747 it owned, leased or managed.
As well as the artificial turf projects to expand a field's use from 10 hours a week to 40 hours, it was replacing the traditional rye grasses of soil fields with warm-season varieties - favoured for a hard-wearing surface.