Noise complaints from neighbours mean $2.1m turf can't be used by sporting clubs.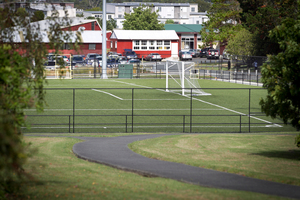 Noise complaints have throttled sports teams' use of a $2.1 million artificial turf pitch in west Auckland and forced Auckland Council's parks department to seek a resource consent for hushed-up games.
The turf pitch at Parrs Park opened for use in 2011 to the joy of sporting clubs struggling with a city-wide shortage of fields they could book for use in all weather and at night.
Parrs Park's turf is used for football games and training and some rugby training during the week and at weekends. But this summer, the gates have been locked on Sundays.
Ross Bannan, whose son plays rep soccer and used to train on the Tiger Turf field on Sundays, said in a letter to the Herald training was now on less suitable fields elsewhere in west Auckland.
"I learned that because of complaining neighbours the field is unable to be used.
"This seems ridiculous to me as the fields have always been there and these people bought their homes knowing sports were played there."
The former Waitakere City Council pushed ahead with the project before the Super City merger but in the rush obtained a non-notified resource consent which covered use of floodlights yet did not consult the neighbours about noise.
When the new turf was operating, readings at the park's boundary with the houses exceeded the permitted levels in the council's district plan.
The council expects a decision this week on its bid for a resource consent which was heard by commissioners last month. It was opposed by five submissions. Concerns focused on the council seeking to extend weekly booking hours from 32 in winter and 20 during summer, to a maximum of 56 hours a week.
The council has already built an acoustic fence around two neighbouring properties.
Parrs Park is home base for Oratia United Football Club, which has 1000 members and needs more training fields for its 16 senior teams and 64 junior teams. It is also the base for Oratia United Cricket Club and the Waitakere Magpies AFL Club.
An Auckland Council spokesman said its local sports and parks department had to meet the rules of the region's district plans about use of outdoor recreation facilities.