Couple with handicapped daughter want mediation and blame council for delaying the settlement process.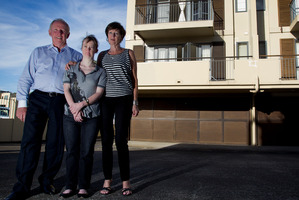 A North Shore couple with a Down syndrome daughter say they are under severe stress and unable to repair leaky townhouses due to a three-year battle to get money.
They are blaming Auckland Council for the drawn-out process and want to go to mediation to settle their fight.
But a council spokeswoman said the council was waiting for the Weathertight Homes Tribunal to set a date for the dispute to be resolved.
Brian and Christine Davis, whose daughter Jody is 35, own two leaky apartments on Beach Rd, Mairangi Bay, and for the past three years have been trying to claim more than $500,000 to fix them.
Mrs Davis said the family were suffering emotionally and financially, and it was far worse for them than many other leaky home victims because their handicapped daughter, who required 24-hour care, was distressed by the situation.
Mr Davis said: "Jody thinks we may have to sell our home to pay for the repairs."
After winning a High Court case against the council to bring it to mediation, Mr and Mrs Davis say the next step keeps being delayed and they can see no end to the misery.
"It appears to be a tactic for all leaky home victims, that their cases are drawn out in the hope that they will either get sick of it or run out of money to fight," Mr Davis said.
The spokeswoman acknowledged the council was now a party to the case after the High Court ruling and agreed the family's claim had not yet been mediated.
"Once all the relevant parties are joined to the claim, the Weathertight Homes Tribunal will set a date," she said.
Mr Davis said mediation was set for last November 1, until the council sought to join a plastering business to the case, then IAG Insurance. The last order from the Weathertight Homes Tribunal granted IAG until March 8 to file to be removed from the mediation.